Hi friends,
Today I am sharing with you a delicious snacks recipe made with Yellow Peas (Mator). It is a very simple recipe, can be prepared very quickly. The dish is nutritious and very easy to prepare. You can serve it with Chutney ( Raw Mango / Tamarind / Coriander Or Pudina Leaves ) or Ketchup.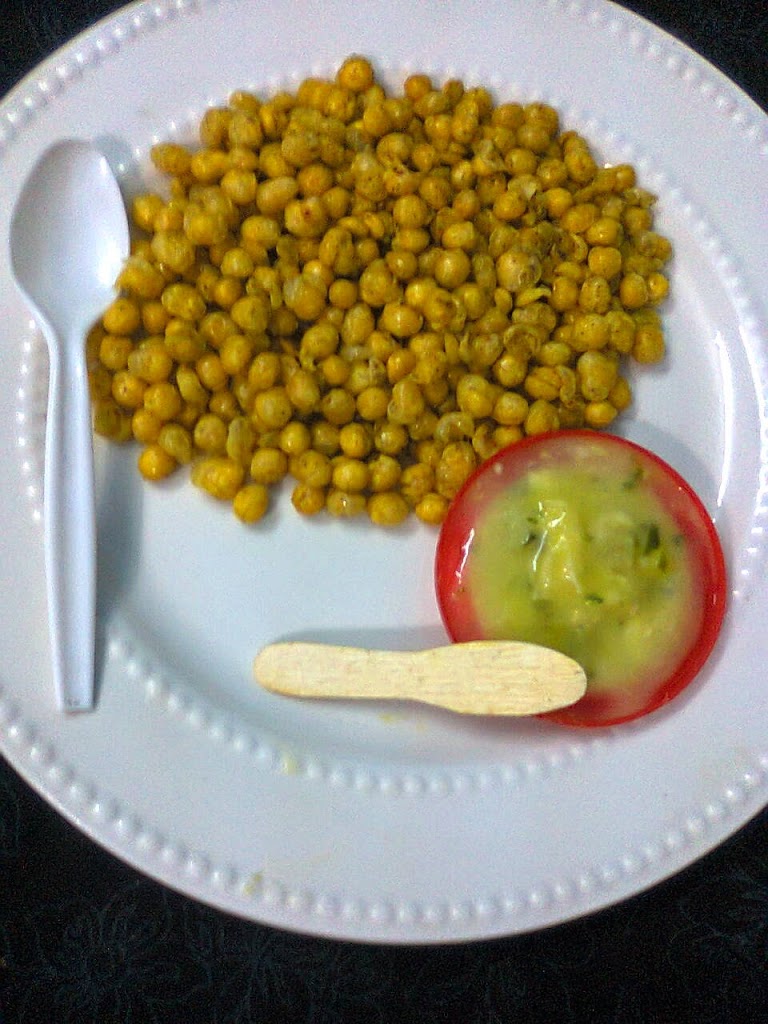 Cooking time – 3 minutes. Serve – 4
Ingredients –
1.Yellow peas – 250 grams (soaked overnight in water)
2.Salt to taste.
3.Pepper powder – 1 tsp.
4.Lime juice – 1 tbsp.
5.Oil – 1/2 tsp.
Method –
1.Drain out the water from the peas. By adding 4 cups of water and 1 tbsp.of salt boil the soaked peas until they are soft but firm in shape. You can use pressure cooker also. Drain out the excess water, let them cool.
2.Heat 1/2 tsp.of oil in a non-stick frying pan, swirl it around the pan. Reduce the heat, add the boiled peas and toss. In this way roast for 2 to 3 minutes. Remove pan from the heat and transfer the roasted peas to a bowl. To this add pepper powder, little salt and lime juice. Mix lightly. Roasted Peas is ready.
Ingredients for the Mango Chutney –
1.Raw mango (medium) – 1 (chopped / grated)
2.Grated ginger – 1/4 tsp.
3.Salt – to taste.
4.Sugar – 1/2 tsp.
5.Green chilly – 2
Grind all the ingredients to a paste and transfer to a small bowl. Serve the tasty chutney with the Roasted Peas.