Hi friends'',
Today I am sharing with you a very delicious side dish recipe made with Pumpkin,Parwal,Potato and Coconut. In Bengal it is a popular vegetarian dish, very tasty and very quick and easy to prepare. This tasty curry goes well with Rice/Roti or Paratha.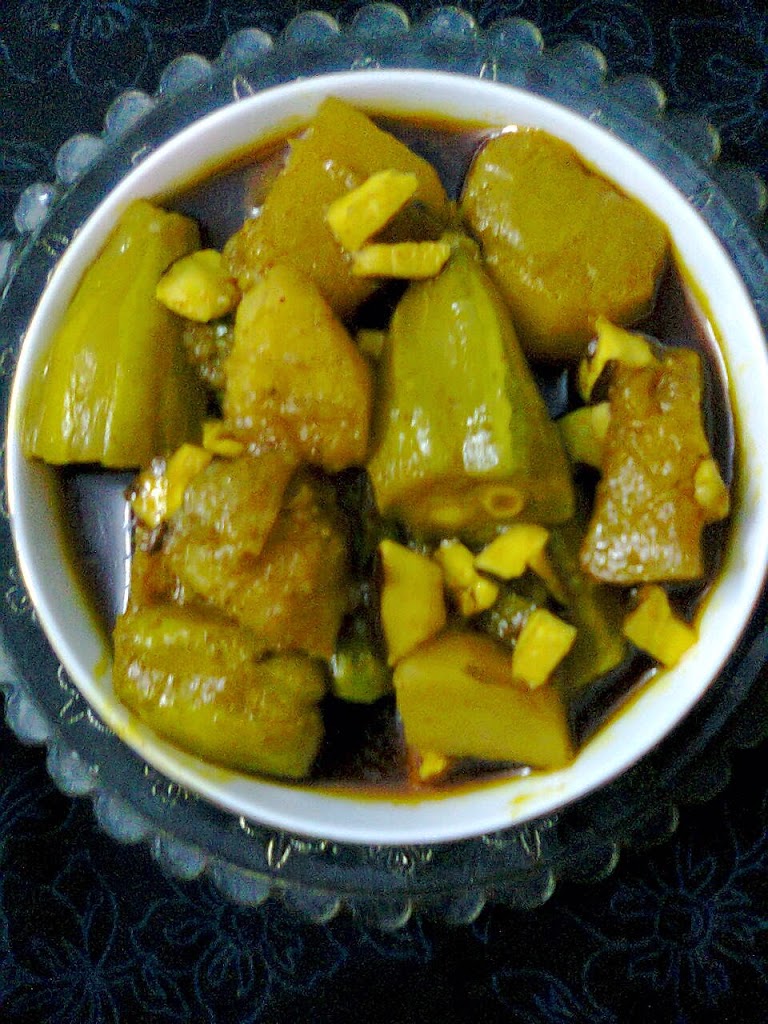 Cooking time – 40 minutes. Serve – 4
Ingredients –
1.Parwal (pointed gourd) – 500 grams (scraped and cut into halves)
2.Pumpkin – 250 grams (peeled and cut into cubes)
3.Potato – 200 grams (peeled and cut into cubes)
4.Chopped coconut – 1/2 cup.
5.Cumin seeds – 1/2 tsp.
6.Ginger paste – 1/2 tsp.
7.Tomato – 1 (chopped)
8.Turmeric powder – 1/2 tsp.
9.Chilly powder – 1/2 tsp.
10.Cumin powder – 1/2 tsp.
11.Salt to taste.
12.Sugar – 1/4 tsp.
13.Ghee – 1 tsp.
14.Oil – 1/2 cup.
15.Roasted cumin seeds powder – 1 tsp. [ Place 1 tbsp.of cumin seeds in a pan. Stir on slow flame. When the cumin seeds looks brown, remove pan from heat. Grind to a powder. Transfer it to a small bowl and cover the bowl.]
Method –
1.Wash the vegetables. Marinate the parwal and pumpkin with 1/2 tsp.of salt and a pinch of turmeric powder, keep aside. Boil the potato by adding 1/2 tsp.of salt for 3 to 4 minutes. Drain and keep aside.
2.Heat oil in a frying pan and fry the parwal till light brown, remove from oil,keep aside. Reduce the heat and fry the chopped coconut for 1 minute, remove from oil ant keep aside. Add boiled potato and pumpkin into the oil, fry for 3 to 4 minutes. Remove and keep aside.
3.Add cumin seeds in the remaining oil, when the cumin looks brown add the tomato.Saute for 1 minutes. Add ginger paste, turmeric, chilly,cumin powders and 1/2 cup of water. Saute until the raw smell of the masala goes off. Add parwal,potato,pumpkin,coconut,sugar and 1/2 cup of water and saute for 3 to 4 minutes on slow heat. Add 2 cups of water and salt,let it bring to boil. Cook until the gravy is thickened. Check the seasoning.
4.Add ghee and roasted cumin powder, mix well. Remove pan from the heat, cover and give 10 minutes standing time.
The delicious curry is ready, serve it with steamed Rice or Roti or Paratha.