Hi friends,
Today I am sharing with you a very nutritious recipe – Oats Khichdi. It is a mixture of Oats(Kellogg's) and Moong dal (golden/yellow lentils). The dish is very tasty and simple to prepare. The khichdi is ideal for diabetic patients. You can add vegetables in this recipe.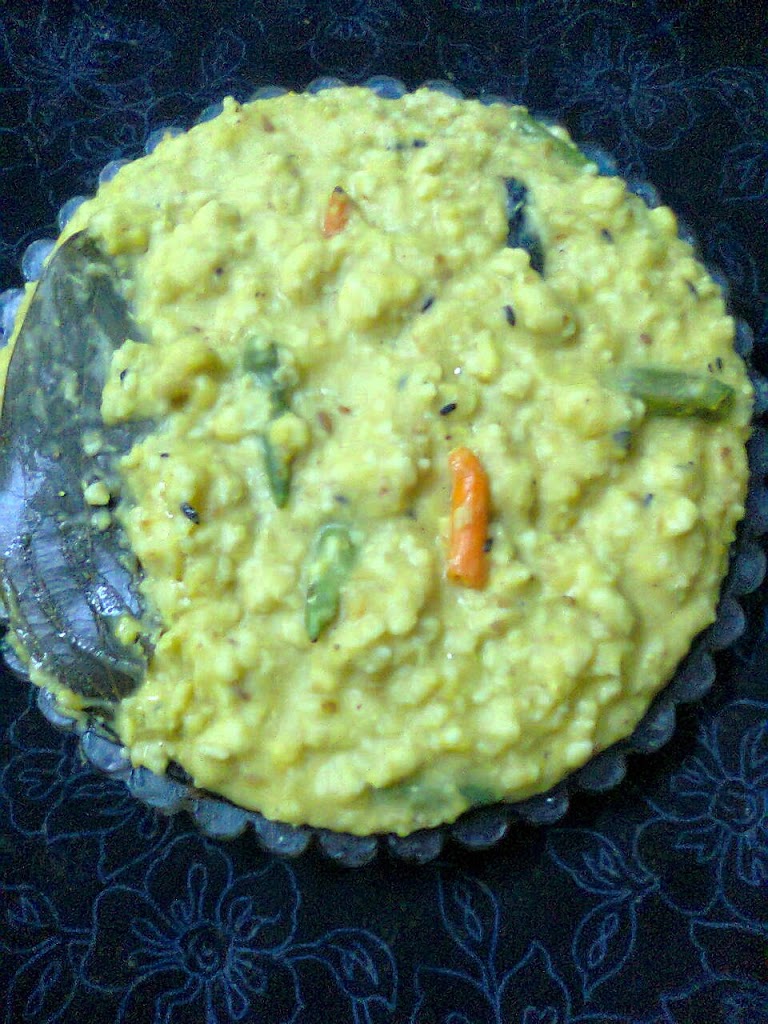 Cooking tome – 45 minutes.(20 minutes in pressure cooker)     Serve – 4
Ingredients –
1.Oats – 2 cups.
2.Moong dal – 1 cup.
3.Dry red chilly – 2
4.Cumin seeds – 1/2 tsp.
5.Ginger paste – 1/2 tsp.
6.Bay leaf – 1
7.Tomato – 1 (chopped)
8.Turmeric powder – 1/2 tsp.
9.Slit green chilly – 4
10.Salt to taste.
11.Sugar – 1/4 tsp.(optional)
12.Oil – 1 tbsp.
13.Ghee – 1 tsp.
14.Garam masala powder – 1/2 tsp.
Method –
1.In a frying pan dry roast the moong dal on low heat till light brown (stirring constantly). Remove the dal from the pan and wash. By adding 1 tbsp.of salt and turmeric boil the washed dal in 4 to 5 cups of water until soft.(Add water if needed). You can use pressure cooker. Transfer the boiled dal to a bowl. Clean out the pan.
2.Heat oil in the frying pan, add dry red chilly and stir fry until brown. Add cumin seeds and bay leaf. When cumin looks brown add tomato and ginger paste, saute for 2 minutes. Add the boiled dal,sugar,slit green chilly and 2 cups of water. Let it bring to boil.
3.Add the oats and mix very well and cook on medium heat for 3 minutes. Check the seasoning. Remove pan from heat.Add ghee and garam masala powder, cover the pan and give 10 minutes standing time. You can add extra water to make the khichdi more dilute.
Healthy Oats Khichdi is ready. Serve with fritters/curry/papad.