Hi friends,
Today I am sharing with you a simple and easy to make side dish recipe made with Eggs. It is a tasty dish and take few minutes to make and requires a few ingredients.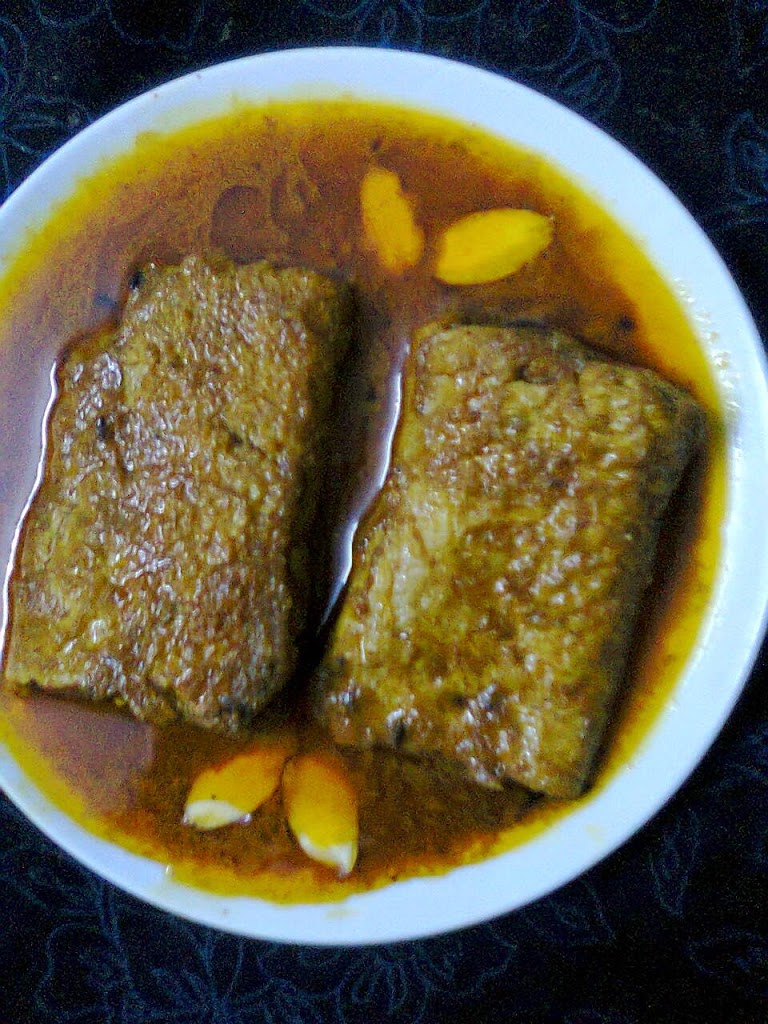 Cooking time – 30 minutes. Serve – 2
Ingredients – [ For the Omelette ]
1.Egg – 2 (beaten)
2.Salt a pinch.
3.Milk – 1 tbsp.
4.Green chilly – 2 (chopped)
5.Ginger paste – 1/5 tsp.
6.Garlic paste – 1/5 tsp.
7.Garam masala powder – a pinch.
8.Corn flour/wheat flour/maida – 1/2 tsp.
Method – Combine all the ingredients in a bowl, whisk well. Heat 1 tsp.of oil in a wide non-stick frying pan.Grease the pan with oil and pour the egg mixture. Swirl the pan so that the mixture spreads all over it. Reduce the heat, cook until the mixture starts to set. The Omelette is ready. Roll up the Omelette. Take out the pan from the heat and cut the Omelette into pieces.
Ingredients – [For the gravy]
1.Onion – 1 (chopped)
2.Tomato – 1 (chopped)
3.Ginger paste – 1/4 tsp.
4.Garlic paste – 1/4 tsp.
5.Cumin powder – 1/2tsp.
6.Chilly powder – 1/4 tsp.
7.Turmeric powder – 1/4 tsp.
8.Salt to taste.
9.Sugar – a pinch.
10.Oil – 2 tbsp.
11.Ghee – 1/2 tsp.
12.Garam masala powder – 1/4 tsp.
13.Cumin seeds – 1/4 tsp.
14.Bay leaf – 1
Method –
1.Grind onion and tomato to a paste. To this add ginger-garlic paste, cumin-chilly-turmeric powders and 1/2 cup of water. Keep the masala mix aside.
2.Heat oil in a frying pan. When hot reduce the heat, add cumin seeds and bay leaf. When the cumin looks brown, add the masala mix and sugar, saute on slow heat until the raw smell of the masala goes off. Add 1 to 11/2 cups of water and little salt, let it bring to boil. Add the Omelette pieces and cook for 2 to 3 minutes. Remove pan from the heat, add ghee and garam masala. Cover the pan and give 10 minutes standing time.
The delicious Omelette Curry is ready to serve. Garnish with chopped nuts and serve with Rice/Roti.