Hi friends,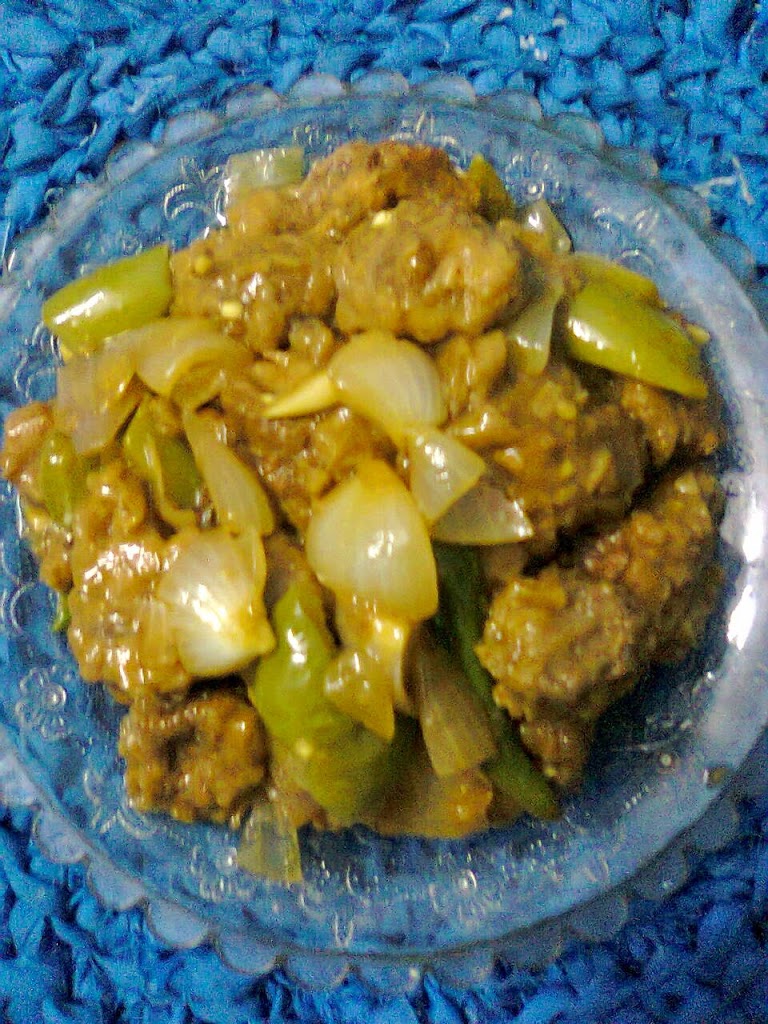 Today I am sharing with you a delicious recipe made with Soya chunks. It is Chilly – Soya. It is an easy to make recipe, very tasty to eat. It goes well with Roti/Paratha.
Cooking time – 40 minutes. Serve – 4
Ingredients –
1.Soya chunks – 70 grams.
2.Capsicum (medium) – 1 (cut into squares)
3.Garlic flakes – 4 (chopped)
4.Ginger – 1 inch (cut into juliennes)
5.Green chilly – 4 (chopped)
6.Soya sauce – 1 and 1/2 tbsp.
7.Chilly sauce – 1 tbsp.
8.Tomato sauce – 1 tbsp.
9.Onion (large) – 1 (cut into cubes)
10.Ginger paste – 1/2 tsp.
11.Garlic paste – 1/2 tsp.
12.Salt to taste.
13.Sugar – 1/4 tsp.
14.Refine oil – 1/2 cup.
15.Corn flour – 2 and 3 tbsp.
16.Egg – 1 ( Beaten)
Method –
1.By adding 1/2 tsp.of salt boil the soya chunks in 4 cups of water until soft (10 minutes). Drain and squeeze out excess water.Again wash the chunks in normal water and squeeze to remove the water. Transfer the chunks to a bowl. To this add ginger-garlic paste,salt,egg, 3 tbsp.of corn flour and 1/2 tbsp.of soya sauce. Mix well.
2.Heat oil in a frying pan, when hot reduce the heat.Group soya chunks into 3 batches. Fry each batch till deep brown. Remove the fried chunks from the oil, keep aside.
3.In the remaining oil add chopped garlic,ginger,onions and capsicum. Fry on high heat for 2 minutes. Add 1 tbsp.of chilly-soya-tomato sauce, sugar and little salt. Saute for 1 minute. Add the fried soya chunks, saute for 3 to 4 minutes.
4.Dissolve corn flour in 1 cup of water and add to the pan, mix well and cook for 3 minutes. Remove pan from the heat. Add chopped green chilly,cover the pan and give 10 minutes standing time.
Chilly-Soya is ready, Serve with Luchi/Roti/Paratha.