Hi friends,
Today I am sharing with you a very delicious summer dessert recipe. It is Stuffed Lichu In Kheer. It is a Bengal delicacy prepared with sweet stuffed lychee and full cream milk. The process of making this dessert is very simple. It is a mouth watering sweet and a unique dessert for a party.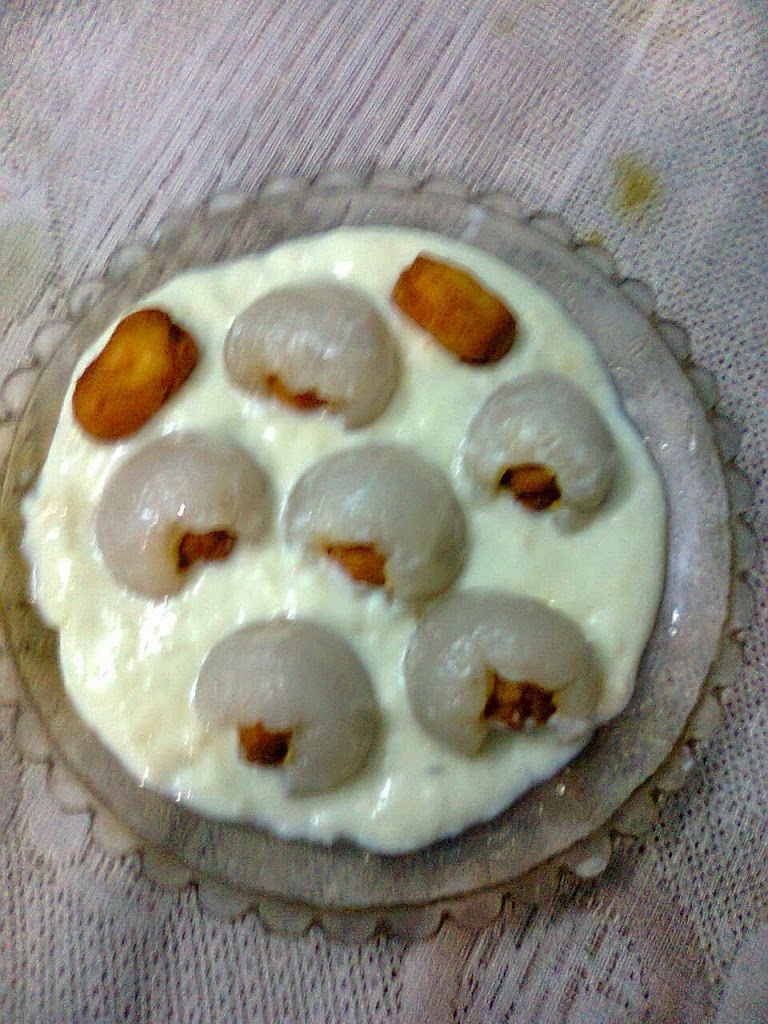 Cooking time – 1 hour. Serve – 4
Ingredients – For the stuffing
1.Cottage cheese (channa) – 200 grams.
2.Milk powder – 100 grams
3.Flour – 1 tbsp.
4.Baking powder – a pinch
5.Ghee 1 tsp.
6.Cardamom powder – 1/4 tsp.
7.Sugar – 2 cups
8.Water – 1 cup.
9.Refine oil – 1 cup.
Method – Mash the channa on a flat dish till it becomes smooth and oily. To this add milk powder, ghee, baking powder,flour and cardamom powder. Knead it well to form a smooth dough. Make small elongated balls of the dough, keep in a flat dish. Heat oil in a frying pan, when hot reduce the heat. Fry the balls on slow heat till they get brown in color. Transfer the balls into hot sugar syrup and keep in the syrup for 30 minutes. [ Sugar syrup – Take sugar and water in a pan,boil and stir. Cook till a single thread consistency is obtained.]
Ingredients – for the dessert
1.Lychee – 8
2.Full cream milk – 11/2 liters.
3.Sugar – 2 to 3 tbsp.
4.Cardamom powder – 1/2 tsp.
5.Condense milk or milk powder 2 tbsp.
Method –
1.Peel the lychees and discard seeds. Insert a sweet stuffing into the center of each lychee. Keep all the stuffed lychees in a dish.
2.Boil the milk in a heavy bottomed pan on medium heat. Stir constantly to prevent it from burning at the bottom. Cook till half the quantity is left. Add sugar, milk powder or condense milk and cardamom powder. Cook for 2 minutes. Remove pan from the heat, transfer the milk to a shallow dish. Allow to cool naturally. Arrange the stuffed lychees on it.
The delicious Lychee Dessert is ready. You can garnish it with chopped nuts or chocolates.