Hi friends,
Today I am sharing with you a delicious fish gravy recipe made with Aar fish. It is very popular in Bengal. In this recipe I used onions in two different styles and at two different stages. The fish gravy is very tasty and it looks beautiful.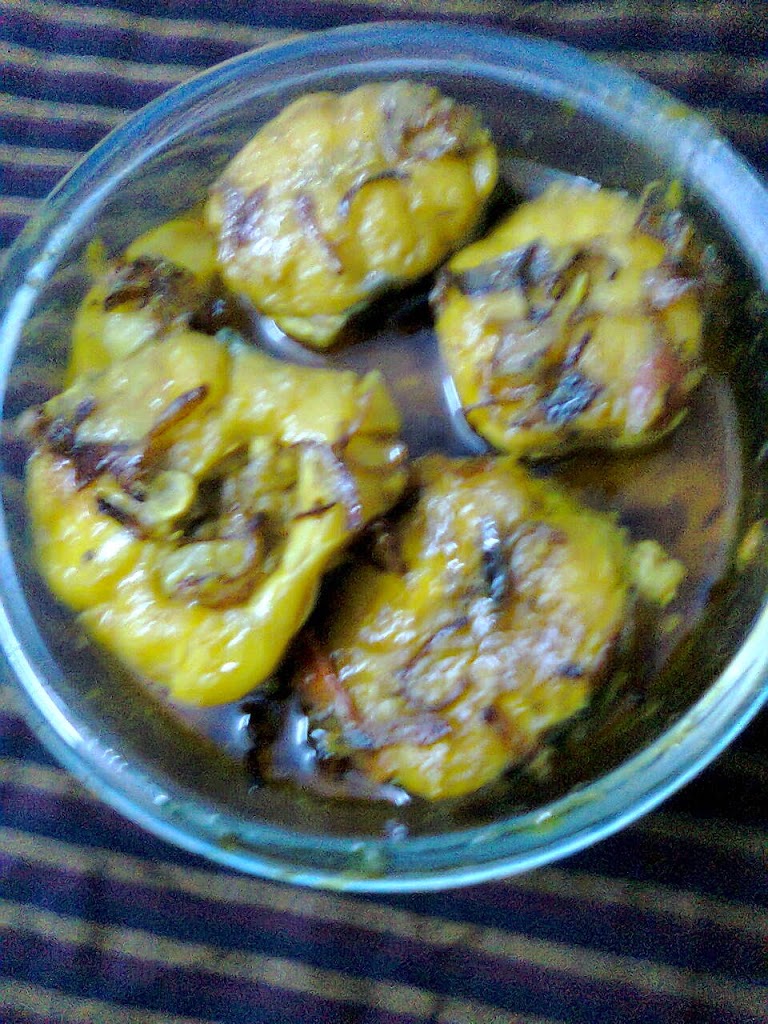 Cooking time – 45 minutes. Serve – 4
Ingredients –
1.Fish piece – 4
2.Onion – 2 (sliced)
3.Onion – 1 (chopped)
4.Ginger paste – 1/2 tsp.
5.Garlic paste – 1/2 tsp.
6.Tomato – 1 (finely chopped)
7.Turmeric powder – 1/2 tsp.
8.Cumin powder – 1/2 tsp.
9.Chilly powder – 1/2 tsp.
10.Cumin seeds – 1/2 tsp.
11.Bay leaf – 1
12.Ghee – 1 tsp.
13.Garam masala powder – 1/2 tsp.
14.Oil – 6 tbsp.
15.Salt to taste.
16.Raisins – 25 grams(soaked in water)
Method –
1.Wash the fish in lukewarm water and marinate with 1/2 tsp.of salt and a pinch of turmeric powder. Keep aside until use. Grind tomato and chopped onions to a paste. To this add ginger-garlic paste, turmeric-chilly-cumin powders and 1/2 cup of water. Mix well, keep the masala mix aside.
2.Heat oil in a frying pan, add the sliced onions and fry till golden brown. Take out the fried onions with a slotted spoon, put in a bowl. Add the fish pieces in the remaining oil, cover the frying pan and fry the fish till light brown on both sides. Remove from oil,, keep aside. Using little water grind raisins and 1/2 of the fried onions to a paste. Reserve another 1/2 portion for garnishing.
3.Add ghee in the remaining oil, then add cumin seeds and bay leaf. When the cumin seeds become brown add the masala mix. Saute on medium heat until the raw smell of the masala goes off. Reduce the heat, add the fried onion paste and saute for 2 minutes.Add 11/2 cups of water and salt, let it bring to boil. Add the fish and cook till the gravy thickens.
Remove pan from heat, add garam masala, cover the pan and give 10 minutes standing time. The dish is ready to serve, garnish with fried onions and serve with Rice/Pulao/Fried Rice.