Hi friends,
Today we are going to make a delicious vegetarian side dish recipe made with Pumpkin. In Bengal it is called Kumror Chakka. It is a traditional Bengali recipe of pumpkin and simple to prepare.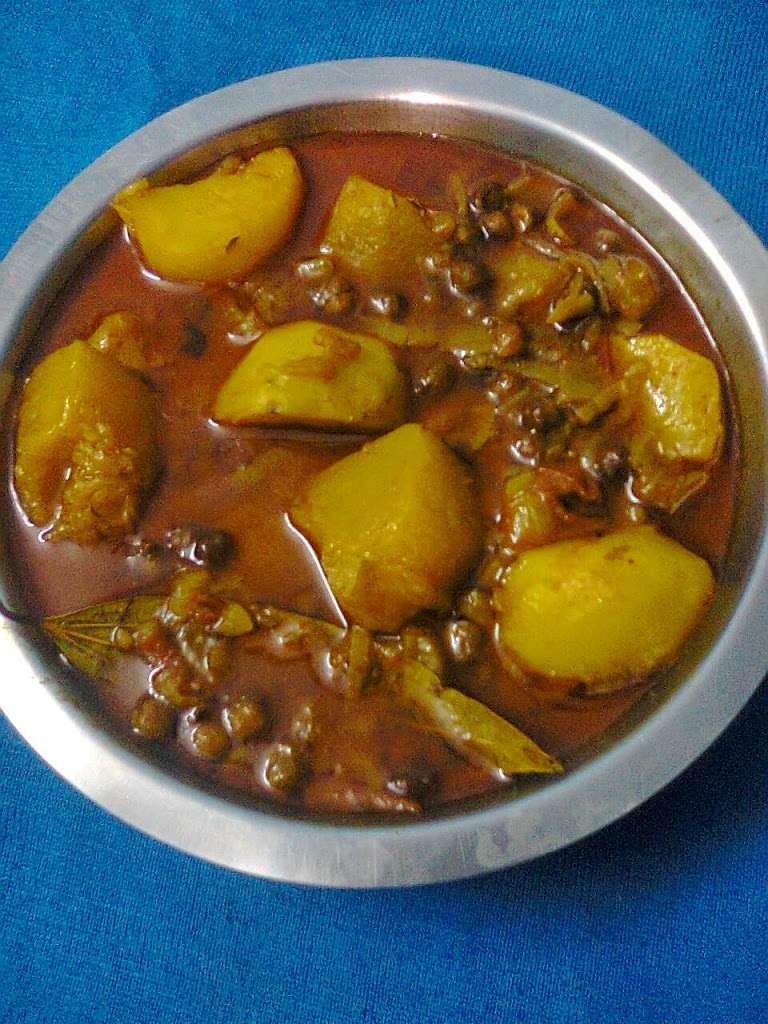 Cooking time – 40 minutes Serve – 4
Ingredients –
1.Pumpkin – 400 grams(peeled and cut into cubes).
2.Potato – 200 grams(peeled and cut into cubes).
3.Kala chana – 5o grams(soaked overnight in water)
4.Cumin seeds – 1/2 tsp.
5.Dry red chilly – 2.
6.Bay leaves – 2
7.Asafoetida (hing) – a pinch.
8.Tomato – 1 (chopped)
9.Turmeric powder – 1/2 tsp.
10.Cumin powder – 1/2 tsp.
11.Chilly powder 1/2 tsp.
12.Coriander powder – 1/2 tsp.
13.Salt to taste.
14.Sugar – 1/4 tsp.
15.Ghee – 1 tsp.
16.Garam masala powder – 1/2 tsp.
17.Ginger paste – 1/2 tsp.
18.Shredded coconut – 2 tbsp.
Method –
1.In a pan boil the potato with 1/2 tsp of salt for 4 minutes, drain and keep aside. Boil the chana with 1/4 tsp.of salt till soft (you can use pressure cooker).
2.In a bowl add ginger paste,turmeric,chilly,cumin,coriander and 1/2 cup of water. Mix well. Keep the masala mix aside. Heat 4 tbsp.of oil in a frying pan, stir fry the potato,pumpkin and boiled chana for 3 to 4 minutes. Remove from pan and transfer to a bowl.
3.Heat 2 tbsp.of oil in the same pan,add dry red chilly, fry until brown. Reduce the heat and add cumin seeds. When cumin looks brown add bay leaves, fry for 2 seconds. Add hing, saute for 1 second. Add tomato, saute for 2 minutes. Add the masala mix,saute on slow flame until raw smell of the masala disappears. Add potato,pumpkin,chana,coconut, sugar,salt and 1/2 cup of water. Saute for 4 to 5 minutes. Add 11/2 to 2 cups of water, let it bring to boil.
4.When the gravy starts thickening, remove pan from heat.Add ghee and garam masala powder, cover the pan and give 10 minutes standing time. Kumror Chakka is ready. Serve the curry with Rice or Roti.