Hi friends,
Today I am sharing with you a delicious lentils recipe made with Massor dal and raw Mango. It is a famous cuisine of Bengal where the dal is prepared with raw mango to give it a sour taste. The dish is very tasty to eat and requires a few ingredients. The process of making this dal is very easy. It is very popular in Bengal and perfect for summer. For this dish you can use Moong/Mator/Kheshari dal.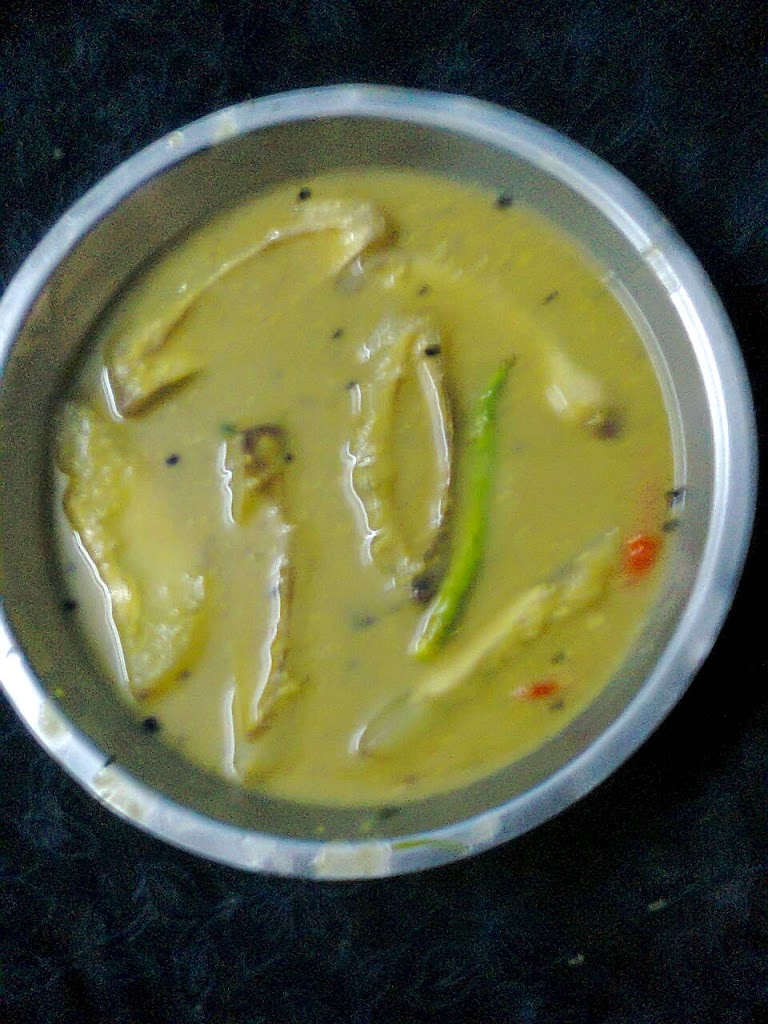 Cooking time – 40 minutes. Serve – 4.
Ingredients –
1.Massor dal (red lentils) – 200 grams.
2.Raw mango (large) – 1 [ peeled and cut into pieces (lengthwise)]
3.Mustard seeds – 1 tsp.
4.Turmeric powder – 1/2 tsp.
5.Dry red chilly – 2.
6.Salt to taste.
7.Sugar – 1/2 tsp.(or as per taste)
8.Slit green chilly – 5
9.Oil – 2 tbsp.
Method –
1.Discard the seed of the mango and soak the mango pieces in water by adding 1 tbsp.of salt. Keep aside until use. In a pan add 4 cups of water and lentils. To this add 1 tbsp of salt and turmeric powder. Keep the pan on heat and boil the dal until tender. Remove pan from heat and whisk the dal well using a whisk. Now drain the water and add the mango pieces to the dal. Keep the pan on heat. Boil the dal with mango pieces for 5 to 6 minutes (or cook till the mango pieces are soft). Remove pan from heat, transfer the dal to a bowl. Clean out the pan.
2.Het oil in the same pan, Add dry red chilly and fry until deep brown. Reduce the heat, add mustard seeds. When the seeds start popping, add the dal,sugar,green chilly and little salt. Add water if needed. Stir and let it bring to boil. Cook for 5 minutes on medium flame. You an add extra water to make the dal more soupy. Check the seasoning. Remove pan from heat, cover the pan and let the dal cool. Aam Dal is ready. Serve cold with plain white Rice.