Hi friends,
Today I am sharing with you a beautiful snack recipe made with Pumpkin Flower. It is a popular snack in Bengali cuisine. Generally it is served as a starter with plain rice, but it can be eaten as a tea time snacks. It is very tasty to eat, very quick and easy to prepare.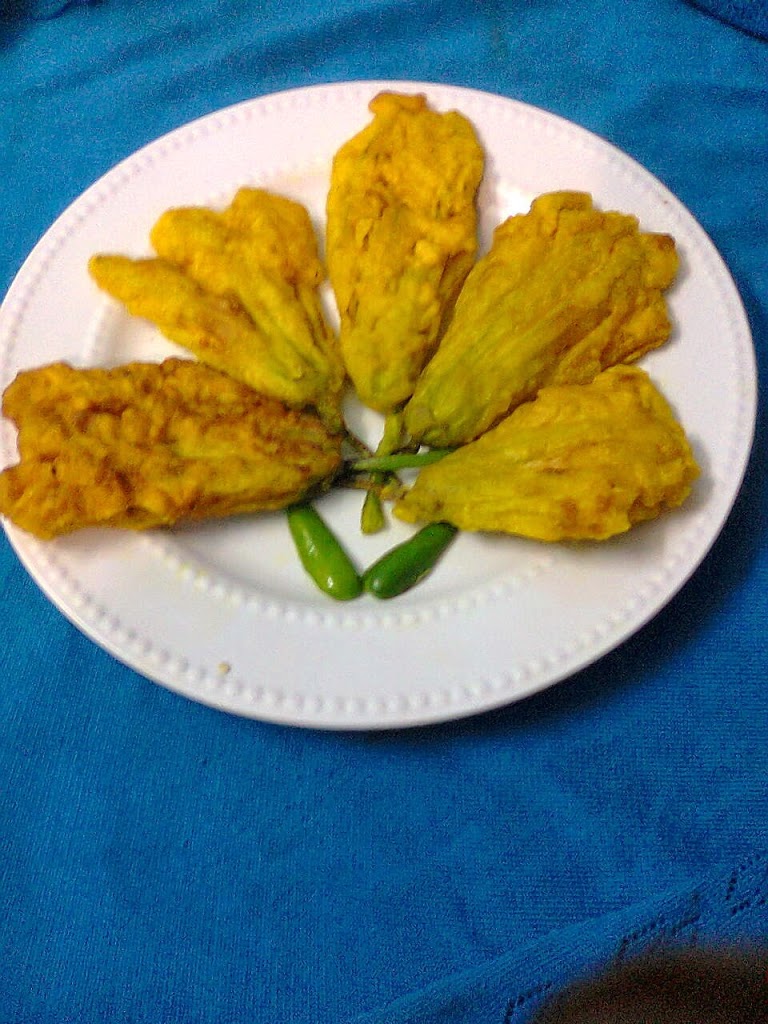 Cooking time – 20 minutes. Serve – 4
Ingredients –
1.Pumpkin flower – 8
2.Maida( flour) – 1 cup.
3.Turmeric powder – 1/4 tsp.
4.Red chilly powder – 1/4 tsp.
5.Rice flour – 2 tbsp.
6.Sugar – a pinch.
7.Salt to taste.
8.Baking soda – a pinch.
9.Oil – 1 tbsp.(for the batter)
10 Oil for deep frying.
Method –
1.Wash the flower gently. Remove the stem and stigma from each flower,keep aside. Take flour and rice flour in a large bowl.To this add turmeric,chilly.sugar.salt and baking soda. Mix well. Add water to make a thick batter.Add 1 tbsp.of oil and beat the batter well.
2.Heat enough oil in a frying pan, when hot reduce the heat. Take one flower dip in the batter and drop into the hot oil. Fry on slow flame until brown on both sides. Fry 2 or 3 flowers at a time. Remove the fried flowers with a slotted spoon and drain excess oil in paper towels.
Pumpkin Flower Fritters is ready. Serve hot as a starter with rice or as a snack with a cup of tea.