Hi friends,
Today we going to make a nutritious fish gravy recipe made with Kajuli fish. It is a small fish found in rivers and connected waters. The fish is very tasty, Popular all over Bengal. Today I am making a light gravy with Kajoli fish. It is an easy to make recipe and very tasty to eat.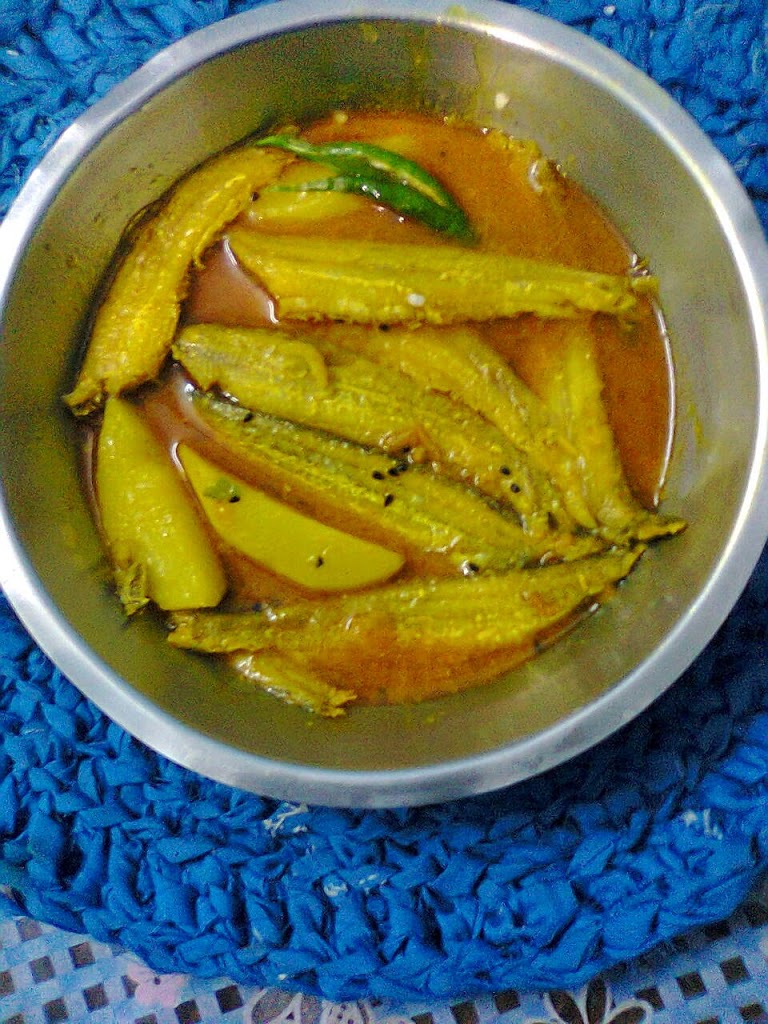 Cooking time – 30 minutes.   Serve – 4
Ingredients –
1.Kajuli fish – 250 grams.
2.Potato – 1 (cut into strips)
3.Kalonji (nigella seeds) – 1/2 tsp.
4.Turmeric powder – 1/2 tsp..
5.Green chilly – 4 (sliced)
6.Salt to taste.
7.Mustard oil – 1/2 cup.
8.Red chilly powder – 1/2 tsp.
Method –
1.Marinate the fish with 1/2 tsp of salt and a pinch of turmeric. Immerse potato in water for 10 minutes,drain and keep aside.
2.Heat oil in a frying pan,when hot reduce the heat. Group fishes into 4 batches.  Fry each batch till very light  brown, remove from oil and keep aside. Add kalonji in the remaining oil, stir fry for few seconds. Add potato, fry for 2 to 3 minutes.Add turmeric, red chilly and 1/4 cup of water, saute for 2-3 minutes. Add 2 cups of water and salt,let it bring to boil. Add fried fish gently and cook on medium flame till gravy thickens.
Remove pan from heat,add green chilly, cover the pan and give 10 minutes standing time. Kajoli Fish gravy is ready. Serve with plain rice.