Hi friends,
Today we are going to make a yummy snacks from the street of Kolkata. It is Egg Roll. It is very popular in Bengal. This tasty snacks is very easy to prepare at home.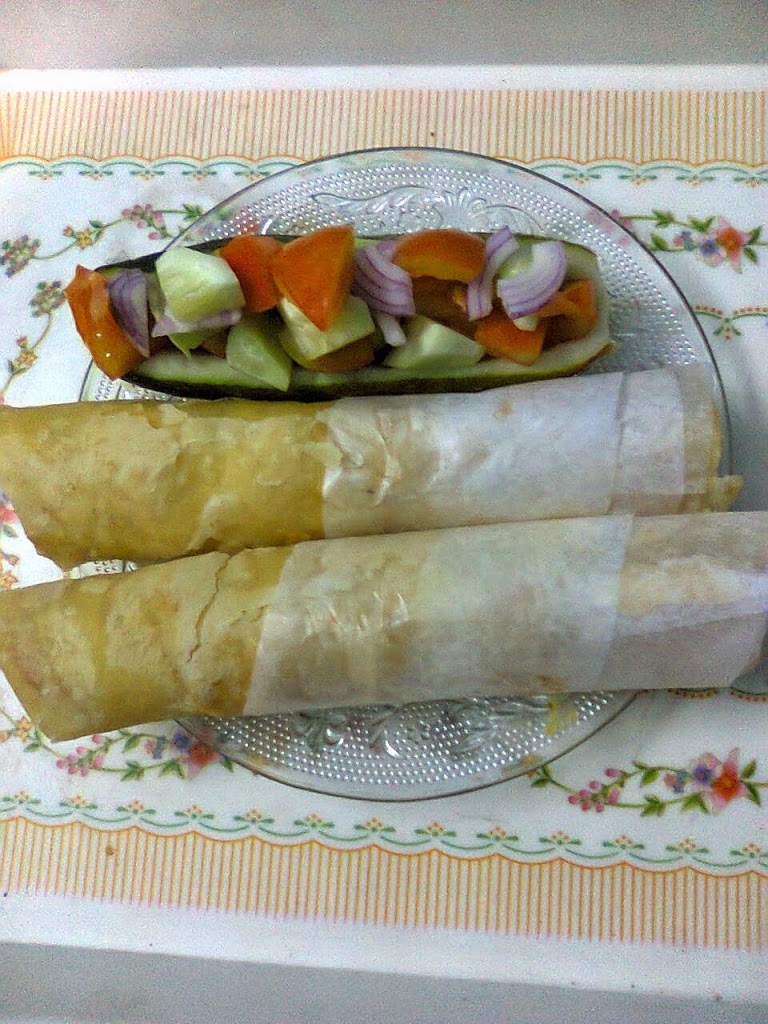 Cooking time – 30 minutes. Serve – 2.
Ingredients –
1.Flour (maida) – 3/4 cup.
2.Egg – 2
3.Salt 1/2 tsp.
4.Oil – 2 tbsp.(for the dough)
5.Onion – 1 (chopped)
6.Chopped cucumber – 4 tbsp.
7.Roasted pea nuts – 2 tbsp.
8.Green chilly – 2 (chopped)
9.Tomato ketchup – 2 tbsp.
10.Lemon juice – 2 tsp.
11.Salt or rock salt – 2 pinch
12.Pepper powder – 1/2 tsp (optional)
13.Roasted cumin seeds powder – 1/2 tsp (optional)
14.Oil – 6 tbsp.
Method –
1.In a bowl put flour. To this add salt and oil,mix well. Add water and knead to make a soft dough.Cover the dough with a wet cloth and keep aside for 20 minutes. After 20 minutes knead the dough again and divide into 2 equal balls. Using oil roll the balls into thin rotis.
2.Put one roti in a hot griddle or skillet and reduce the heat.When bubble starts flip it.Using 2 tbsp.of oil shallow fry the roti on both sides.Prepare another roti this way.
3.Break an egg in a bowl, beat it well. Heat the griddle and add 1 tbsp. of oil to this, Pour the egg, swirl it. Place one fried roti immediately on the egg and press gently to get it stick to the egg. Flip the roti when egg is done and cook for 5 seconds.
4.Place the roti in a flat dish with egg side top. Put onion, chilly cucumber,pea nuts lengthwise. To this add ketchup,a pinch of salt/rock salt,cumin powder,pepper powder and 1 tsp. of lemon juice. Roll the egg-roti with all the ingredients. Wrap up it with greased paper. Prepare another roll this way. Serve Egg Roll hot as a evening snacks.