Hi friends,
Today we are going to make a nutritious side dish recipe made with Drumsticks and vegetables. It is a traditional Bengali recipe. The curry is very tasty, quick and easy to prepare and perfect for summer. You can use any vegetable you have in hand.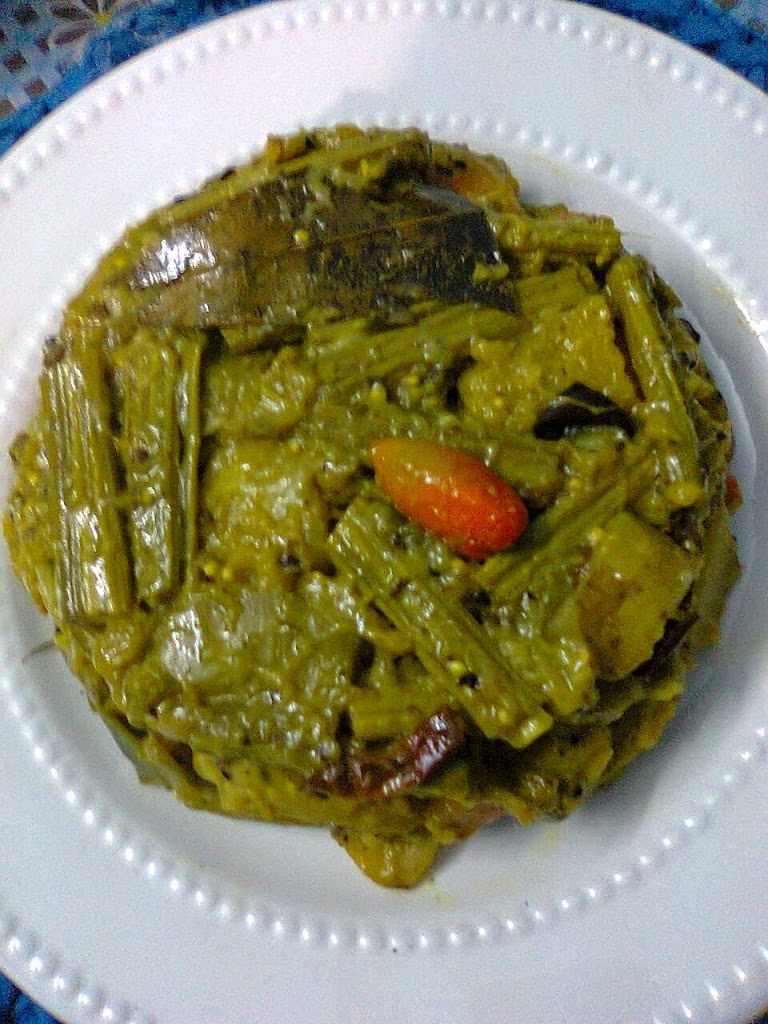 Cooking time – 30 minutes. Serve – 4
Ingredients-
1.Drumsticks – 200 grams(cut into long pieces)
2.Egg plant(begun) – 200 grams(cut into cubes)
3.Pumpkin – 250 grams – (cut into cubes)
4.Potato – 100 grams(cut into cubes)
5.Tomato – 1 (chopped)
6.Dry red chilly – 2
7.Bay leaves – 2
8.Panch foran – 1 tsp.
9.Onion – 1 (chopped)
10.Ginger paste – 1/2 tsp.
11.Turmeric powder – 1/2 tsp.
12.Salt to taste.
13 Sugar – 1/2 tsp.
14.Green chilly(slit) – 4
15.Oil – 3 tbsp.
16.Wheat flour – 1 tbsp.
[ Panch foran – Cumin seeds + Nigella seeds + Fenugreek seeds + Fennel Seeds + Radhuni. You can use Mustard seeds instead of Radhuni ]
Method –
1.Wash all the vegetables,keep in a colander. Heat oil in a frying pan, fry the dry red chilly until brown. Reduce the heat,add panch foran and stir fry until the spices give out their aromas. Add bay leaves and onion, stir fry till onions are transparent. Add all the vegetables, salt, ginger and turmeric, mix well. Saute for 5 to 6 minutes. Add 2 cups of water, sugar and green chilly. Cook over medium heat until the vegetables are cooked. Add water if needed.
2.Add wheat flour, mix well. Stir continuously and cook until there is no liquid left. Remove pan from the heat, cover and give 5 minutes standing time. The healthy Drumstick Curry is ready, serve with steamed Rice or Roti.