Hi friends,
My today's recipe is French Bean Curry. It is a simple curry, very nutritious and very easy to prepare. It goes well with rice or roti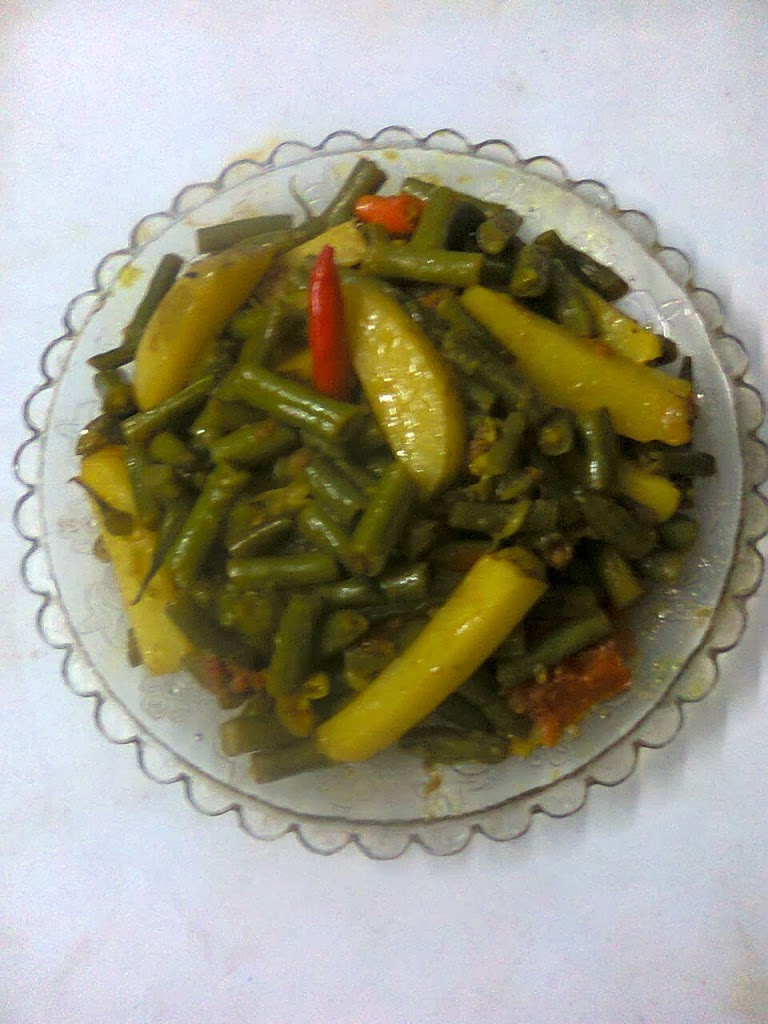 Cooking time – 30 minutes. Serve – 4
Ingredients –
1.French bean – 500 grams (cut into long pieces)
2.Potato – 1 (cut into long pieces,like French fry)
3.Tomato – 1 (chopped)
4.Onion – 1 (chopped)
5.Ginger paste – 1/4 tsp.
6.Garlic paste – 1/4 tsp.
7.nigella seeds (kalonji) – 1/4 tsp.
8.Green chilly (slit) – 2
9.Sugar – 1/4 tsp.
10.Salt to taste.
11.Turmeric powder – 1/4 tsp.
12.Oil – 2 tbsp.
Method –
1.Wash the vegetables and keep aside. Heat oil in a frying pan, when hot reduce the heat. Add kalonji, stir fry for few seconds. Add onion,fry till onion look transparent. Add potato and French bean, stir fry for 3 – 4 minutes. Add tomato, ginger-garlic,salt and turmeric powder, saute for 5 – 6 minutes. Add 1 cup of water and sugar, boil until the vegetables are cooked. Add little water if needed. Add green chilly,cook on medium flame until there is no liquid left (stirring occasionally)
French Bean curry is ready to serve. This dish is very healthy and can be prepared very quickly. Serve the curry as a side dish with rice / roti.