Hi friends,
My today's recipe is Foli Fish Gravy. It is a healthy fish curry dish made with seem (flat bean). It is a traditional Bengali fish curry preparation. The dish is nutritious, very tasty, easy to prepare and perfect for spring (Basanta Kal)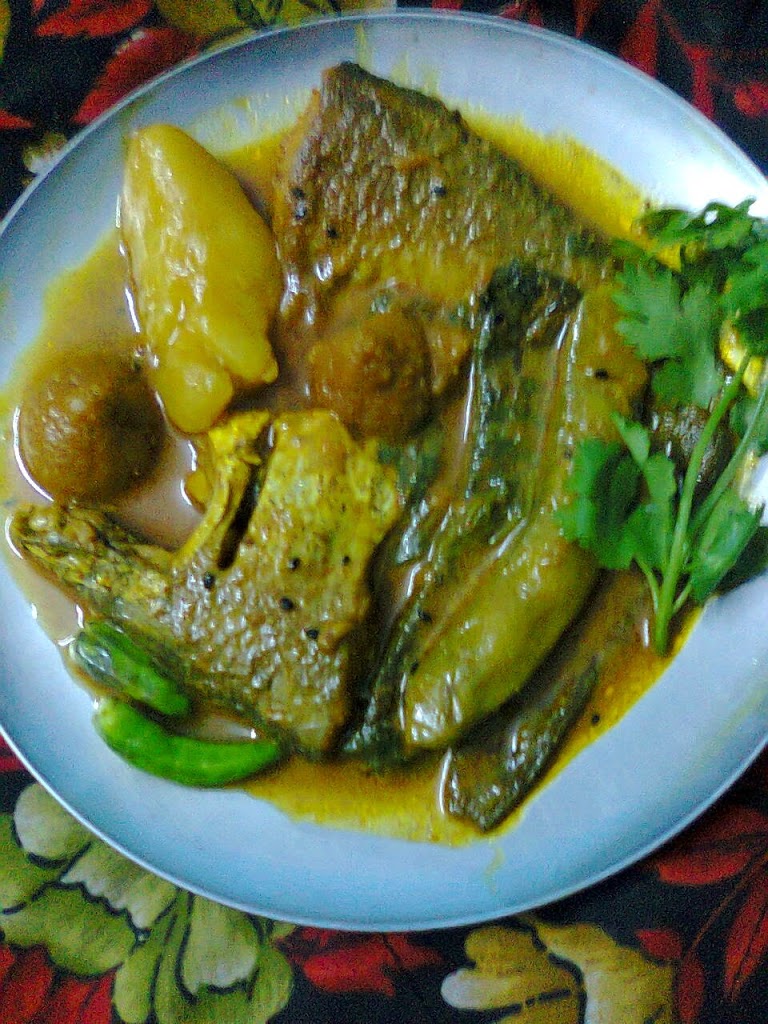 Cooking time – 40 minutes.  Serve – 4.
Ingredients –
1.Foli fish – 4 pieces.
2.Potato – 1 (cut into 4 pieces)
3.Seem (flat bean) – 8
4.Tomato – 1 (chopped)
5.Kalonji (nigella seeds) – 1/2 tsp.
6.Turmeric powder – 1/2 tsp.
7.Chilly powder – 1/4 tsp.
8.Cumin powder – 1/2 tsp.
9.Coriander powder – 1/2 tsp..
10.Salt to taste.
11.OIL – 5 tbsp.
12.Coriander leaves (chopped) – 2 tbsp.
13.Green chilly (slit) – 4
14.Bori (lentil dumplings) – 6 (optional)
Method –
1.Wash the fish and marinate with 1/2 tsp.of salt and a pinch of turmeric. Keep aside until use. Immerse potato and seem in water for 10 minutes, drain and keep aside.
2.Heat oil in a frying pan, fry the bori until deep brown on both sides. Transfer to a bowl. In the remaining oil fry the fish until light brown on both sides. Remove from oil,keep aside. Add kalonji in the hot oil, stir fry for few seconds. Add potato, fry for 3 to 4 minutes. Add seem, saute for 2 minutes. Add tomato,turmeric, chilly,cumin,coriander and 1/2 cup of water. Saute until the raw smell of the masalas goes off. If needed add extra water (little) and saute for few minutes. Add 11/2 to 2 cups of water and salt, let it bring to boil. Add the fried fish and bori. Cook over medium heat until the fish and vegetables are cooked.
Remove pan from heat, add green chilly and coriander leaves. Cover and give 10 minutes standing time. Serve this healthy fish gravy with steamed rice.