Hi friends,
Today we are going to make Murighanto – a typical Bengali preparation of fish curry cooked with fish head and rice. It is a traditional Bengali dish, generally prepared on special occasions. The dish is very tasty, rich in color and wonderful aromatic and easy to prepare. Traditionally Rohu or Katla fish head is used in this recipe but you can use any big carp head for this.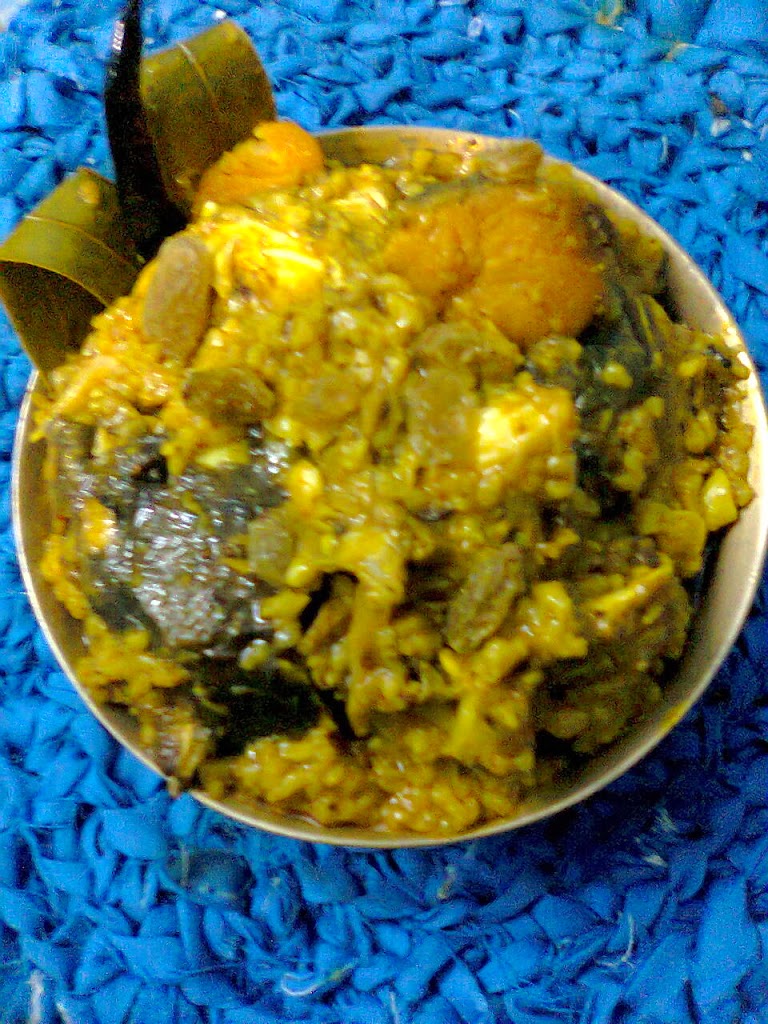 Cooking time – 45 minutes. Serve – 4
Ingredients –
1.Fish head – 1 piece.
2.Potato (large) – 1 (cut into small cubes)
3.Rice (good quality) – 50 grams.
4.Tomato – 1 (chopped)
5.Whole Red chilly – 2
6.Cumin seeds – 1/2 tsp.
7.Bay leaves – 2
8.Onion – 1 (chopped)
9.Ginger paste – 1/2 tsp.
10.Garlic paste – 1/2 tsp.
11.Turmeric powder – 1/2 tsp.
12.Red chilly powder – 1/2 tsp.
13.Cumin powder – 1/2 tsp.
14.Sugar – 1/4 tsp.
15.Salt to taste.
16.Ghee – 1 tsp.
17.Oil – 1/2 cup.
18.Garam masala powder – 1 tsp.
Raisins/green chilly/nuts – for garnishing.
Method –
1.Soak rice in normal water for 15 to 20 minutes, drain and keep aside. Immerse potato cubes in water for 10 minutes, drain and keep aside. Wash the fish head with lukewarm water, marinate with 1/2 tsp. of salt and a pinch of turmeric powder. Keep aside until use.
2.Heat 2 tbsp.of oil in a frying pan, fry the potato cubes till light brown. Remove from oil, keep aside.In the same oil add rice and stir fry the rice till transparent (not brown). Remove pan from heat and transfer the rice to a bowl. Clean out the pan.
3.Heat 4 to 5 tbsp.of oil in the frying pan and fry the fish head till deep brown on both sides. Take out the fish head,break it into pieces and keep aside. In the remaining oil add whole red chilly, stir fry until brown. Then add cumin seeds,when the cumin looks brown add bay leaves and onion.Fry till onions are light brown. Add tomato, saute for 2 minutes. Add ginger,garlic,turmeric,chilly,cumin,sugar and 1/2 cu of water. Saute the masala mix until the raw smell of the masalas disappear.(On slow flame)
4.Add the broken fish head, potato, rice and 1/2 cup of water, saute for 3-4 minutes. Add 2 cups of water and salt, let it bring to boil. Cook until the rice and potato are cooked and the gravy reached desired thickness (semi dry) Add warm water if needed.
Remove pan from heat,add ghee and garam masala powder,mix well. Cover the pan and give 10 minutes standing time. Garnish with raisins and serve with steamed Rice.