Hi friends,
Today I am going to make Egg Vindaloo. It is a spicy egg curry prepared in Goan style. Traditionally vindaloo is made with pork and very popular in the region of Goa. But now I am making the famous vindaloo curry with egg. The dish is also very tasty, rich in flavor and easy to prepare.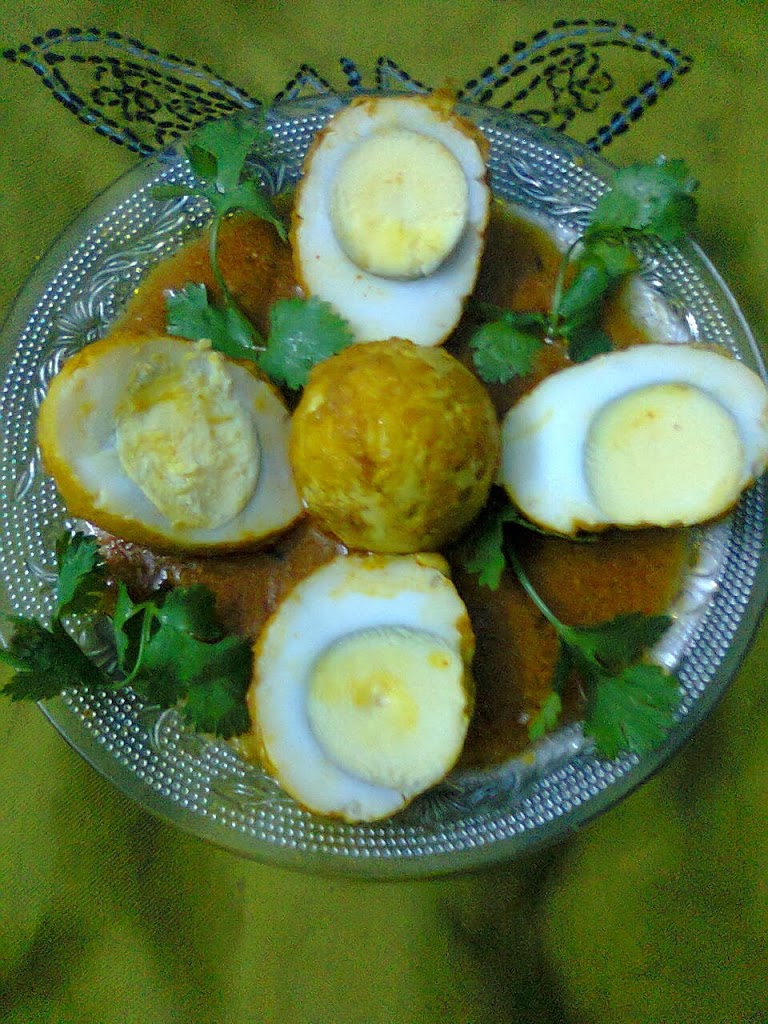 Cooking time – 40 minutes. Serve – 4
Ingredients –
1.Egg (large) – 4
2.Cumin seeds – 1/2 tsp.
3.Onion (large) – 2 (chopped)
4.Ginger paste – 1/2 tsp.
5.Garlic paste – 1/2 tsp.
6.Chilly powder – 1 tsp.
7.Cumin powder – 1 tsp.
8.Turmeric powder – 1/2 tsp.
9.Tomato puree – 1 tbsp.
10.White vinegar – 2 tbsp.
11.Sugar – 1/2 tsp.
12.Salt to taste.
13.White oil – 5 tsp.
14.Cinnamon powder – 1 tsp.
15.Coriander leaves – for garnishing.
Method –
1.Boil the eggs with 1 tsp.of salt for 8 to 10 minutes. Keep the boiled egg in normal water and peel the skins off. Prick the boiled eggs with knife. In a bowl add ginger-garlic, tomato puree, cinnamon, chilly-cumin-turmeric and vinegar. Mix well. Add 1/2 cup of water to make a smooth mixture. Let it rest for 10 minutes.
2.Heat oil in a frying pan, when hot reduce the heat and fry the eggs for 1 to 2 minutes. Remove the eggs from the oil, keep aside.Add cumin seeds in the remaining oil, when it splutters add onion and fry till golden brown. Add the masala mix and sugar, saute on medium flame until the raw smell of the masalas disappear. If needed add little water and saute for another few minutes. Add 11/2 to 2 cups of water and salt, let it bring to boil. Add the fried eggs and cook till the gravy thickens. Remove pan from heat, cover and bring it to room temp.
Egg Vindaloo is ready to serve. Using a thread cut the eggs into halves (lengthwise) and garnish with coriander leaves. Serve it with rice/roti/naan/paratha.