Hi friends,
Today we are going to make a delicious cauliflower preparation made with green peas. It is a traditional Bengali side dish recipe made in winter. The dish is very tasty and easy to make.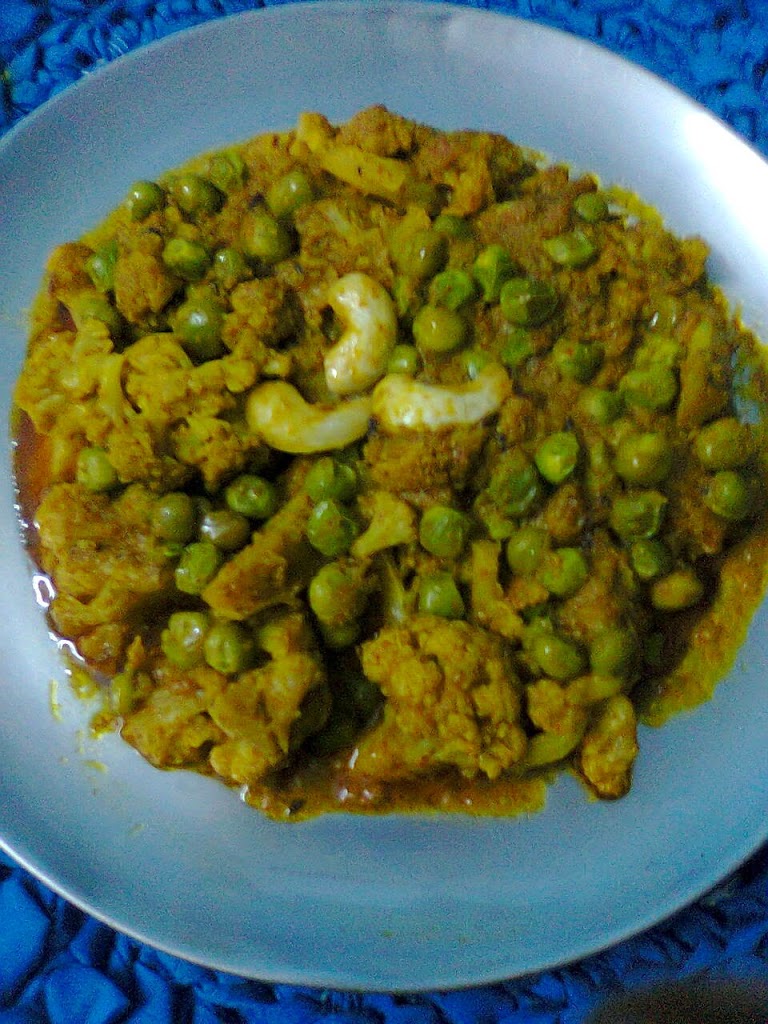 Cooking time – 30 minutes.  Serve – 4
Ingredients –
1.Cauliflower (medium) – 1 (cut into florets)
2.Green peas – 1 cup.
3.Tomato – 1 (chopped)
4.Cumin seeds – 1/2 tsp.
5.Ginger paste – 1/2 tsp.
6.Cumin powder – 1/2 tsp.
7.Turmeric powder – 1/2 tsp.
8.Chilly powder – 1/2 tsp.
9.Sugar – 1 tsp. & Salt to taste
10.Garam masala powder – 1 tsp.
11.Ghee – 1 tbsp.
12.Oil – 1/2 cup.
Method –
1.Boil the florets with 1 tsp.of salt for 2 minutes, drain well. Heat oil in a frying pan, when hot reduce the heat. Add cumin seeds, stir fry for few seconds. When the cumin looks brown add tomato and sugar, stir fry for 2 minutes. Add ginger,chilly- cumin- turmeric and 1/2 cu of water, saute until the raw smell of the masalas disappear. Add cauliflower, peas and 1/2 cup of water, saute for 4 to 5 minutes. Add 1 to 11/2 cups of water and salt. Cook it over medium heat until the vegetables are cooked. If needed add warm water. Cook till the gravy is thick
2. Remove pan from heat, add ghee and garam masala powder, mix well. Cover the pan and give 10 minutes standing time.
Gobi Matar is ready to serve. Garnish with cashew nuts or raisins and serve with Rice/Pulao/Roti.