Hi friends,
Today we are making a traditional Bengali recipe made with bottle gourd and shrimp.It is a famous bottle gourd preparation and very popular all over Bengal. The curry is very tasty and easy to make.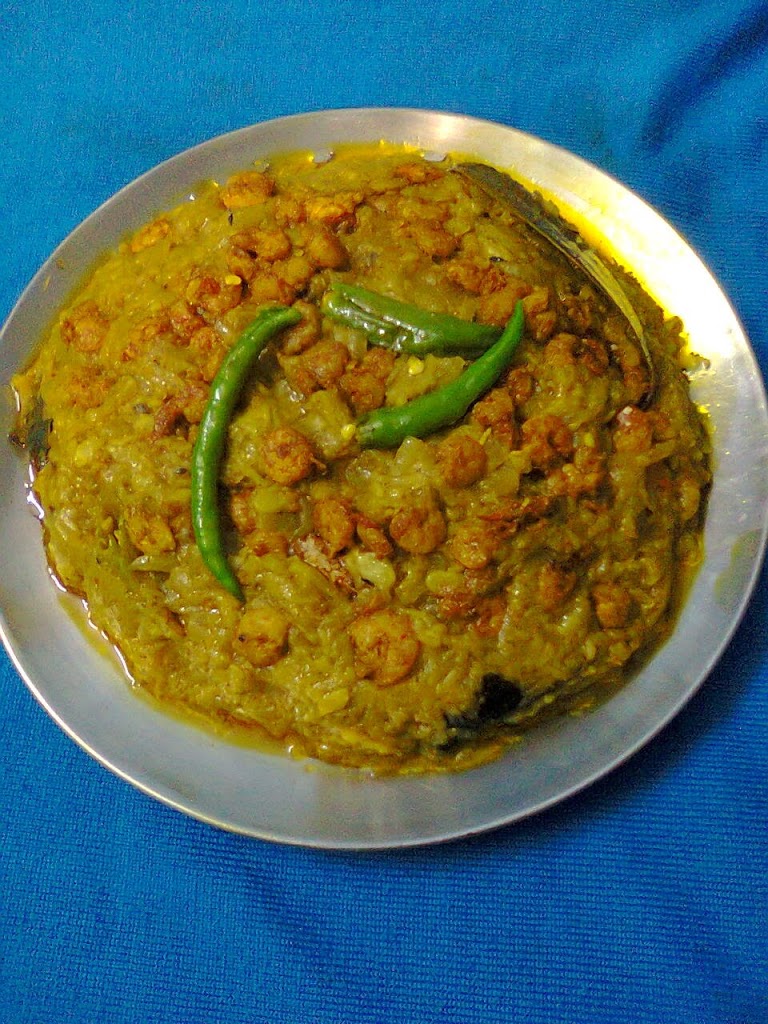 Cooking time – 50 minutes. Serve – 4
Ingredients –
1.Bottle gourd – 1
2.Cumin seeds – 1/2 tsp.
3.Whole red chilly – 2
4.Turmeric powder – 1/2 tsp.
5.Sugar – 1 tsp.
6.Salt to taste.
7.Oil – 5 tbsp.
8.Wheat flour – 1 tbsp.
9.Green chilly – 4 (sliced)
10.Bay leaves – 2
11.Shrimp – 200 grams.(cleaned and washed)
12.Ginger paste – 1/2 tsp.
13.Cumin powder – 1/4 tsp.
14.Chilly powder – 1/4 tsp.
15.Ghee – 1 tsp.
Method –
1.Cut bottle gourd into 4 pieces. Peel the skin and immerse in water for 10 minutes. Drain the water and chop the gourd. You can grate the gourd also. In a frying an add the chopped gourd and 1 tsp. of salt, cover the pan. Cook on slow flame for 5 to 6 minutes (stir occasionally). Bottle gourd will release water. Using a colander drain the water and keep the bottle gourd aside.
2.Heat 2 tbs.of oil in a frying pan, add the shrimp and stir fry for few seconds. Add ginger, chilly and cumin powder and little salt. Add 1/3 cup of water,saute for 3 to 4 minutes.Transfer the shrimp mix to a bowl. Clean out the pan.
3.Heat 3 tbsp.of oil in the same pan, add red chilly and fry until brown. Add bay leaves and cumin seeds, when cumin looks brown add bottle gourd, turmeric and little salt, saute on medium flame for 8 to 10 minutes (stir occasionally). Add the shrimp mix, sugar and 1/2 cup of water, mix well. Cook on medium flame until there is no liquid left (stir constantly). Add the wheat flour, mix well and cook for 2 to 3 minutes with stirring continuously.
Remove pan from heat, add ghee, cover the pan and give 10 minutes standing time. Lau Chingri is ready. Serve this delicious dish with plain Rice or Roti.