Hi friends,
Today I am sharing with you a delicious curry recipe made with ridge gourd (jhinge). It is Jhinge Posto. It is a traditional Bengali side dish recipe and very popular in Bengal. It is a dry dish, very tasty and easy to prepare.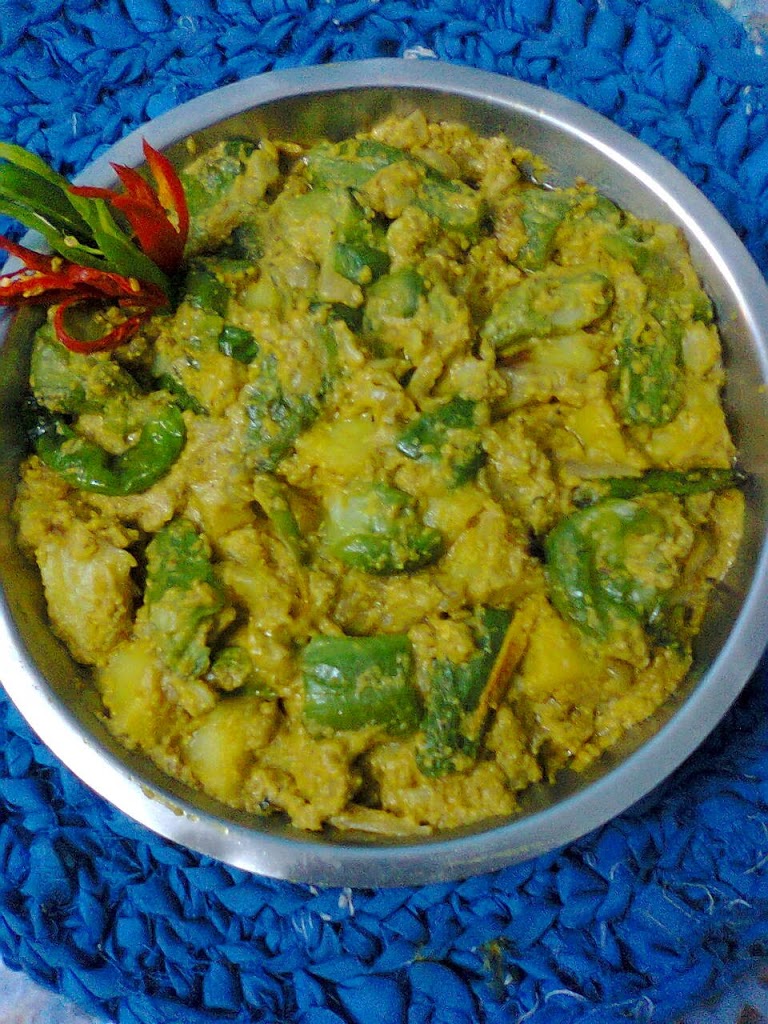 Cooking time – 40 minutes  Serve – 4
Ingredients –
1.Poppy seeds – 50 grams.
2.Ridge gourd – 500 grams (peeled and washed)
3.Potato (large) – 1 (peeled and cut into small cubes)
4.Onion – 1 (chopped)
5.Ginger paste – 1/4 tsp.
6.Garlic paste – 1/4 tsp.
7.Turmeric powder – a pinch
8.Nigella seeds (kalonji) – 1/2 tsp.
9.Chilly powder – 1/4 tsp.
10.Salt to taste
11.Sugar – 1/4 tsp.
12.Green chilly – 2
13.Ghee – 1 tsp.
14.Oil – 4 to 5 tbsp.
Method –
1.Cut ridge gourd into small pieces, keep aside. Immerse potato cubes in water for 5 to 6 minutes, drain and keep aside. Using a mixer grinder, grind the poppy seeds into a powder. To this add 1 cup of water and green chilly. Now grind the poppy seeds into a smooth paste. Transfer it to a bowl.
2.Heat 3 tbsp. of oil in a frying pan, Fry the potato for 4 to 5 minutes. Remove from oil. In the remaining oil fry the ridge gourd for 3 to 4 minutes. Remove the pan from heat and transfer the ridge gourd with oil to a bowl. Clean out the pan.
3.Heat 1 tbsp. of oil and ghee in the same frying pan, add nigella seeds. Stir fry for 30 seconds. Add onion, fry till it become light brown. Add ginger- garlic paste,turmeric,red chilly,sugar and 1/2 cup of water, saute for 3 to 4 minutes. Add poppy seeds paste, saute for 3 to 4 minutes Add fried potato and ridge gourd, saute for 2 minutes. Add 1 cup of water and salt, stir and cook on slow flame with stirring continuously. When the water is dried out and oil separates remove pan from heat. Cover and give 10 minutes standing time.
Jhinge Posto is ready. Serve it with Rice or Roti or Paratha.
.