Hi friends,
Today we are going to make a healthy dish – Vegetable Khichuri. It is a mixture of rice and moong dal (golden gram) with various vegetables. You can use any vegetable you have in hand. It is a tasty dish and also nutritious and easy to prepare.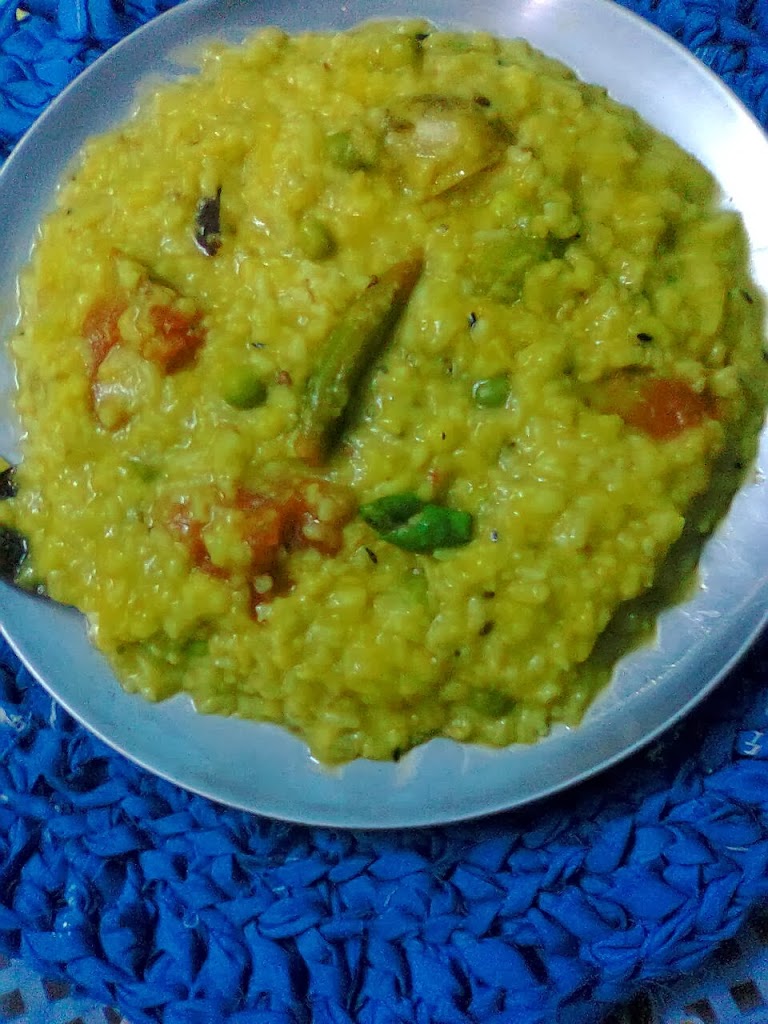 Cooking time – 50 minutes/25 minutes in pressure cooker.      Serve – 4
Ingredients –
1.Rice – 1 cup.
2.Dal – 1 cup.
3.Cumin seeds – 1 tsp.
4.Ginger paste – 1 tsp.
5 Bay leaves – 2
6.Turmeric powder – 1 tsp.
7.Slit green chilly – 4
8.Dry red chilly – 2
9.Potato – 1 (cut into cubes)
10.Cauliflower florets – 4
10 Tomato – 2 (cut into cubes)
11.Green peas – 1/2 cup.
12.Sugar – 1 tsp.
13.Salt to taste.
14.Ghee – 1 tbsp.and Oil – 2 tbsp.
15.Garam masala powder – 1 tsp.
Method –
1.Wash vegetables, keep aside. In a frying pan dry roast the dal till light brown. Remove pan from heat, wash the dal and rice and soak in water for 30 minutes.
2.Boil the rice and dal with salt and turmeric powder until they are cooked (half done). You can use pressure cooker.
3.Add all the vegetables and cook till the vegetables become tender. Add warm water if needed.(Stir occasionally). Remove pan from heat and transfer it to a bowl. Clean out the pan.
4.Tempering  – Heat 2 tbsp.of oil in the pan, add dry red chilly(broken). Stir fry until brown. Add cumin seeds and bay leaves. When cumin becomes brown add ginger paste, saute for 1 minute. Add the boiled khichuri and stir. Add sugar and green chilly, mix well and cook for 4-5 minutes with stirring occasionally. You can add extra water to make the khichuri more dilute. Check the seasoning and remove pan from the heat.
Add ghee and garam masala powder, mix well, cover the pan and give 10 minutes standing time.
Vegetable Khichuri is ready. Serve with papad  and chutney.