Hi friends,
Today we making a very delicious mutton curry dish – Mutton Kosha. It is a slow cooked meat preparation in Bengali style. It is spicy, rich in flavor and very tasty.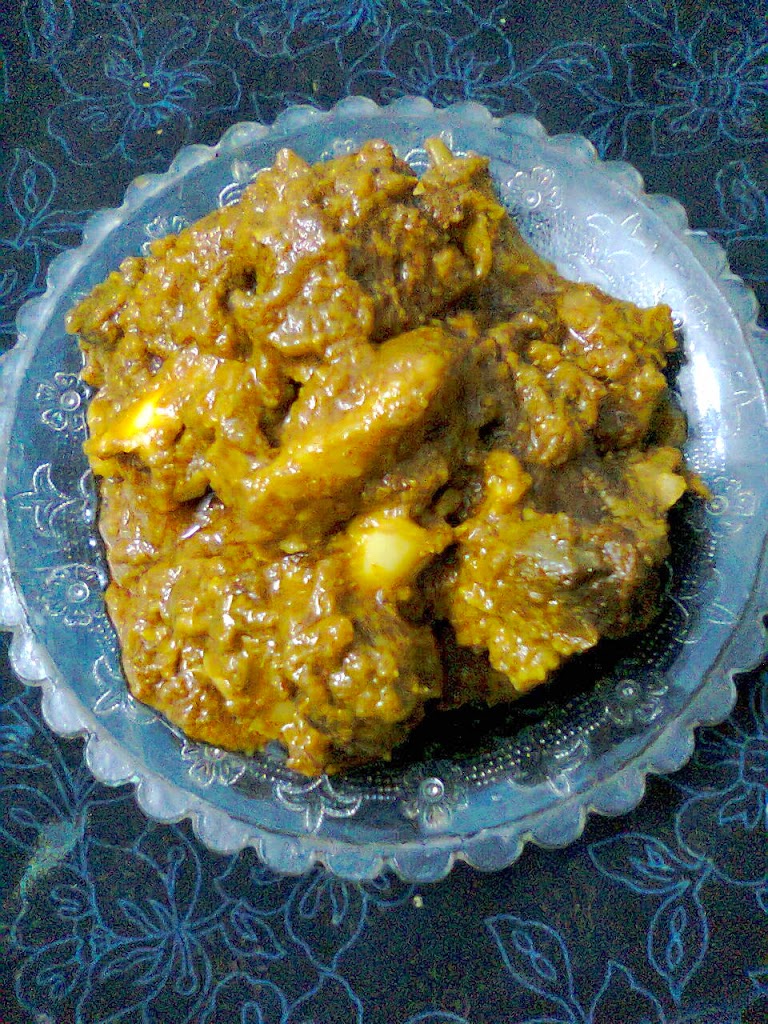 Cooking time – 1 hour.    Serve – 4
Ingredients –
1.Mutton – 750 grams (cut into medium pieces).
2.Raw papaya paste – 2 tbsp.
3.Onion – 300 grams (chopped).
4.Grated ginger – 2 tbsp.
5.Garlic flakes – 8-10
6.Bay leaves – 3
7.Turmeric powder – 1 tbsp.
8.Chilly powder – 1 tbsp.
9.Cumin powder – 1 tbsp.
10.Tomato – 200 grams (chopped).
11.Sugar – 1/2 tsp.
12.Salt to taste.
13.Oil – 100 grams.
14.Ghee – 2 tbsp.
15.Garam masala powder – 1 tbsp.
Method –
1.Take 1 piece of raw papaya and grind into a smooth paste. Wash the mutton and drain excess water. Rub mutton with the papaya paste and keep it aside for 30 minutes. After 30 minutes clean the mutton (discard papaya paste).
2.Grind onion,ginger,garlic and tomato into a paste. In a bowl add the paste, turmeric-chilly-cumin powder,salt and 1/2 cup of water. Mix well. Keep it aside.
3.Heat oil in a frying pan.When hot reduce the heat, add bay leaves and sugar,stir fry for few seconds. Add the masala mix, saute on medium flame for 7-8 minutes. Add mutton and little salt, mix well. Saute until the raw smell of the masalas disappear. Add little warm water if needed and again saute with stirring continuously to prevent from burning at bottom.
4.Add 3-4 cups of warm water and cook with the lid closed till the meat becomes tender and the gravy is thick in consistency. Add warm water if needed and cook on slow flame with stirring constantly.
Remove pan from heat, mix ghee and garam masala powder and cover the pan. Give 10 minutes standing time. Mutton Kosha is ready to serve. Serve with rice/roti/naan/paratha.