Hi friends,
Today we are going to make a popular Indian sweet – Gajar Ka Halwa. It is a traditional Panjabi dish and is made during winters. The dish is very delicious and can be made using traditional technique or using a microwave. Today I am cooking Gajar Ka Halwa using both the techniques.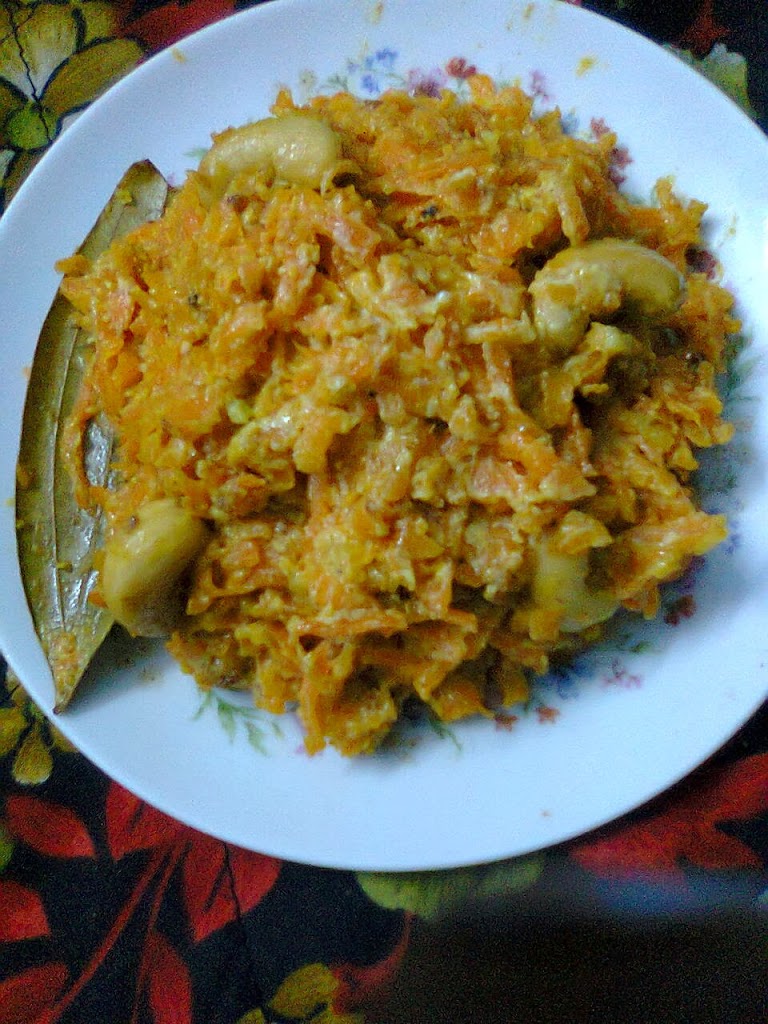 Cooking time – 30 minutes. Serve – 4.
Ingredients –
1.Grated carrot – 2 cups.
2.Ghee – 2 tbsp.
3.Cardamom – 4 (crushed)
4.Bay leaves – 2
5.Sugar – 4 tbsp.
6.Milk – 1 cup.
7.Milk powder – 4 – 5 tbsp.
8.Cashew nuts – 10 – 12 or Raisins – 2 tbsp.
Method –
1.Wash,peel and grate the carrots. Heat ghee in a non-stick frying pan,reduce the heat and fry the cashew nuts for 1 minutes,remove from heat and keep aside. In the remaining ghee add crushed cardamom and bay leaves, saute for 1 minutes. Add the grated carrots,saute for 5-6 minutes with continuous stirring. Add milk, cook for 5-6 minutes.
2.Remove pan from heat,add sugar and milk powder.Mix very well and pour the mixture into a micro safe bowl. Microwave on high power for 6 to 8 minutes (depends upon the microwave you are using) and also stirring the mixture after every 2 minutes. Give 5 minutes standing time
Gajar Ka Halwa is ready to serve. Garnish with cashew nuts and serve as a dessert.