Hi friends,
Today we are going to make a delicious Bengali recipe – Karaishuntir Kochuri. It is a traditional Bengali breakfast recipe, generally made in winter. It is very tasty,easy to make and requires a few ingredients.You can eat Kochuri with potato curry or thick chana dal (see post on 28/1/2014).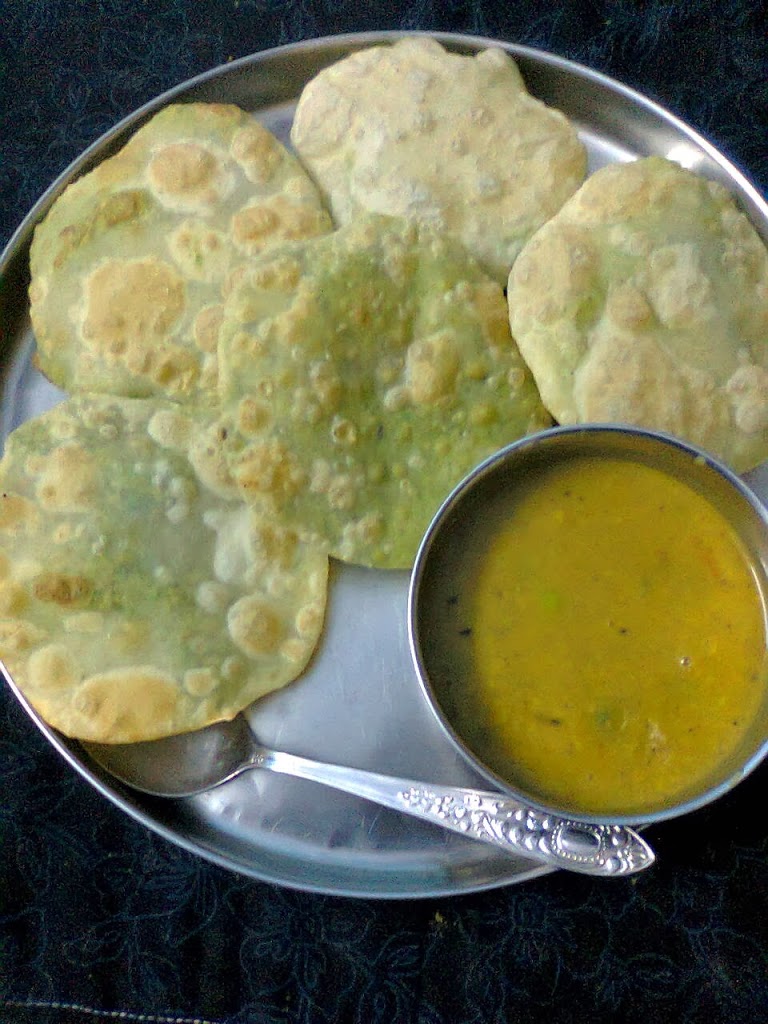 Cooking time – 45 minutes. Serve – 4.
Ingredients – For the fillings
1.Green peas – 2 cups.
2.Ghee – 1 tbsp.
3.Garam masala powder – 1/2 tsp.
4.Grated ginger – 1/2 tsp.
5.Green chilly – 2
6.Sugar – 1/4 tsp.
7.Salt to taste.
8.Asafoetida (Hing) – a pinch.
Ingredients – For the dough.
1.Flour – 2 cups.
2.Oil – 4 tsp.
3.Salt – 1/2 tsp.
4.Sugar – 1/4 tsp.
And oil for deep frying.
Method –
1.Grind the peas with chilly,ginger,salt, sugar and little water into a paste. Heat ghee in a non- stick pan, reduce the heat. Add hing and stir fry for 1 second. Add the peas past,fry it with stirring continuously on slow flame. When the water evaporates, remove pan from heat.Add garam masala powder, mix well and transfer it to a bowl. When cold make small balls, keep aside.
2.Take flour in a large bowl. Add salt,sugar and 4 tbsp of oil, mix well. Add water little by little ,kneading the flour till a smooth dough is obtained. Cover the dough with a wet cloth and keep it rest for 15 minutes.
3.After 15 minutes knead the dough again and divide it into small balls (lemon size). Take one flour ball, put one peas ball in the center and seal it. Using dry flour roll the stuffed ball into 4 inch. diameter circle. Repeat the process with the remaining flour balls.
4.Heat enough oil in a frying pan, when hot reduce the heat. Take one rolled ball and slow slide from the side of the pan into the hot oil. Press gently, Once its puffs up,flip the other side, fry for few seconds. Remove with a slotted spoon and keep on paper towels. Fry the kochuri one by one.
Karaishuntir Kochuri is ready. Serve it with potato curry or chana dal.