Hi friends,
Today I am sharing a a very simple Breakfast recipe – Jeera Paratha. It is very popular in India. It is very tasty, easy to prepare. If you want to prepare a quick and easy dish for breakfast you can make jeera Paratha.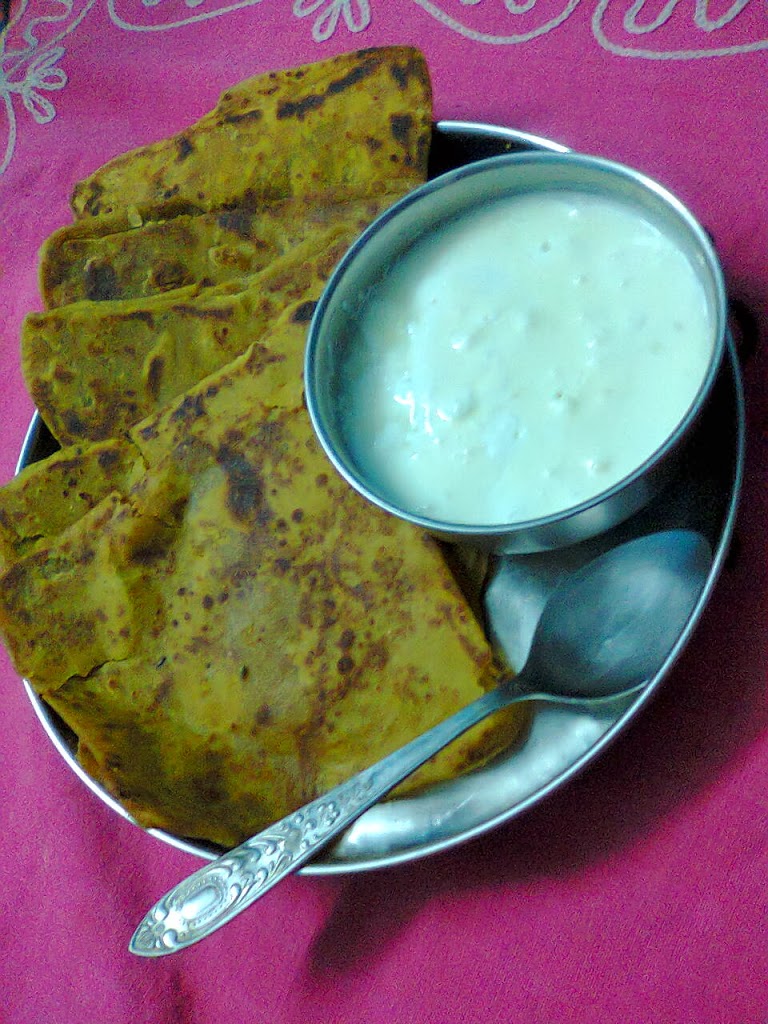 Cooking time – 45 minutes.  Serve – 4.
Ingredients –
1.Flour (wheat) – 250 grams.
2.Oil/Ghee – 2 tbsp.(For the dough)
3.Sugar – 1/4 tbsp.
4.Salt to taste.
5.Cumin seeds – 3 tbsp.
6.Whole red chilly – 2
7.Oil / Ghee for shallow frying.
8.Curd – 2 tbsp.
Method –
1.In a frying pan place the red chilly and 2 tbsp.of cumin seeds on slow flame. Stir continuously until the spices give out their aromas. Remove from heat and grind to a powder. Transfer it to a bowl and cover with a lid.
2.Heat 2 tbsp.of oil in a frying pan.Add 1 tbsp. of cumin seeds, when it becomes brown remove pan from heat. In a large bowl take flour. Add fried cumin seeds with oil, sugar,salt and curd.Mix well. Add water little by little and knead to make a dough. Cover the dough with a wet cloth and keep aside for 20 minutes.
3.After 20 minutes knead the dough again and divide it into 7-8 portions and give each portion a round shape of ball. Take one ball and roll out as thin as possible. Spread 1/2 tsp.of cumin-chilly powder and fold it like an envelope.
4.Put the raw paratha on a hot griddle,reduce the heat. When bubble starts,flip it. Spread 2 tbsp. of oil /ghee around the edge and shallow fry until golden brown on both sides.  Follow the same process for the remaining dough balls.
Jeera Paratha is ready. Serve with curd/pickles/sauce.