Hi friends,
Today I am sharing a tasty snack recipe which is very popular in Bengal – The Coconut Pakoda. It is a home made snacks, very delicious and easy to prepare.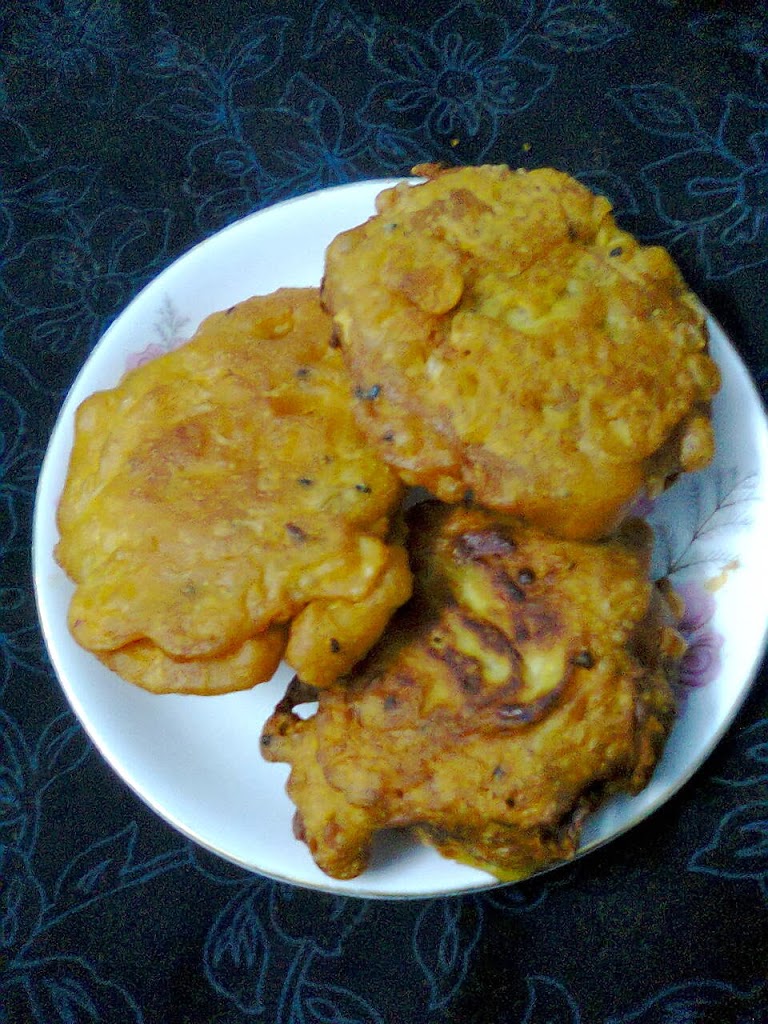 Cooking time – 30 minutes. Serve – 4.
Ingredients –
1.Shredded coconut – 2 cups.
2.Potato – 1
3.Green chilly – 3 (chopped)
4.Onion – 1 (chopped)
5.Ginger(grated) – 1/2 tsp.
6.Sugar – 1/2 tsp.
7.Salt to taste.
8.Oil for deep frying.
9.Turmeric powder – 1/4 tsp.
10.Garam masala powder – 1/2 tsp.
For the batter –
1.Besan (gram flour) – 11/2 cups.
2.Sugar – 1/4 tsp.
3.Salt to taste
4.Turmeric powder – 1/4 tsp.
5.Chilly powder – 1/4 tsp.
6.Oil – 1 tbsp.
7.A pinch of baking soda.
Method –
1.Mash or grate the potato. Add coconut,sugar,salt,onion,ginger,chilly,turmeric and garam masala powder to the mashed potato. Mix well and make a dough. Divide the dough into equal sized balls (lemon size) and flatten. Keep them aside.
2.Take besan in a large bowl. Add sugar,salt,turmeric,chilly,baking soda and 1 tsp.of oil to the besan. Add water little by little and make a thick batter. Beat the batter for 5-6 minutes.
3.Heat oil in a pan,when hot reduce the heat. Dip the coconut balls in the batter and fry until they turn brown in color on both sides. Fry 3-4 pakodas at a time. Take out the fried pakodas with a slotted spoon and drain on paper towels.
Coconut Fritters is ready. Serve as a tea time snacks with sauce or ketchup.