Hi friends,
Today we are going to make a popular Indo-Chinese recipe – Chilly Fish. It is an Indian form of a Chinese recipe made in Bengali style. This delicious dish is made with boneless fish like Aar,Bhekti or Pomfret. Today I am making chilly fish with Aar fish.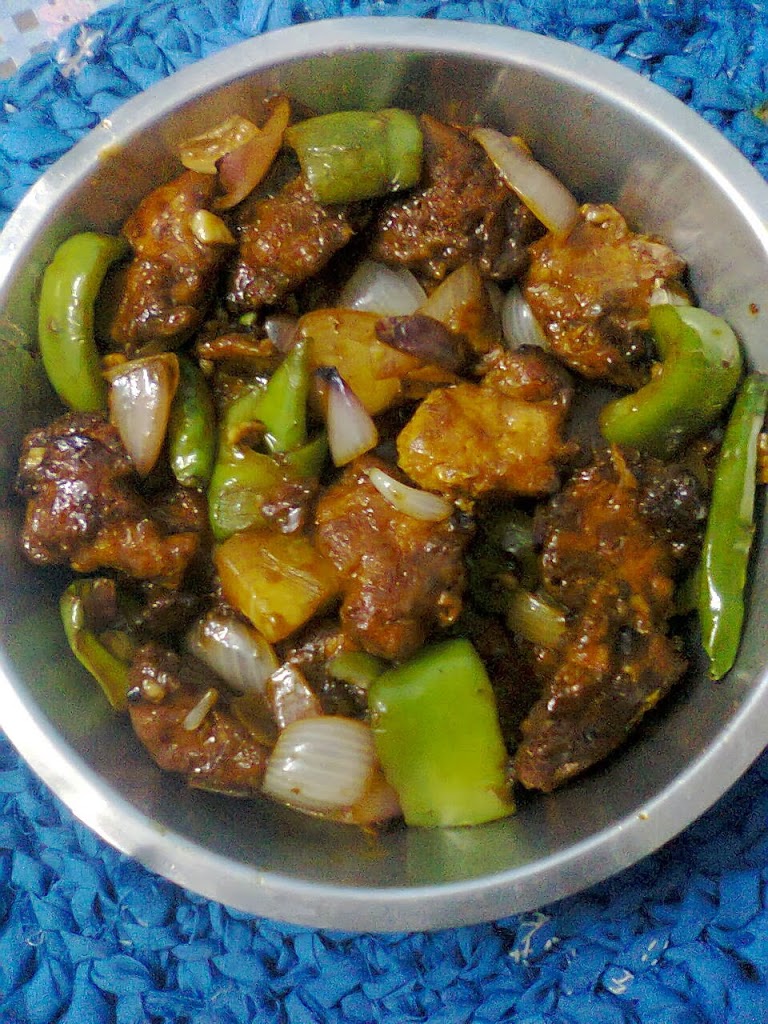 Cooking time – 40 minutes. Serve – 4
Ingredients –
1.Fish (cut into cubes) – 2 cups.
2.Soya sauce – 2 tbsp.
3.Tomato sauce – 1 tbsp.
4.White oil – 50 grams.
5.Green chilly – 4 (chopped)
6.Onion (large) – 1 (cut into squares)
7.Capsicum – 1 (cut into squares)
8.Ginger paste – 1/2 tsp.
9.Garlic paste – 1/2 tsp.
10.Chilly paste – 1/2 tsp.
11.Sugar – 1/2 tsp.
12.Salt to taste.
13.Corn flour – 3 tbsp.
14.Egg – 1 (beaten)
15.Garlic (chopped) – 1 tbsp.
16.Ginger(juliennes) – 1 tbsp.
Method –
1.Wash the fish cubes.Heat oil in a frying pan.fry the fish very lightly. Transfer them to a bowl. Add ginger-garlic paste,sugar,salt and beaten egg (1/2) to it.mix well.Then add 1 tsp.of soya sauce and 2 tbsp.of corn flour, mix well and keep it rest for 10 minutes.
2.After 10 minutes fry the coated fish cubes until golden brown on both sides. Remove from heat and keep aside.
3.Heat 2 tbsp. of oil. Add chopped garlic,onion.capsicum and ginger(juliennes) and stir fry for 2-3 minutes. Add soya sauce, tomato sauce, sugar and salt. Saute for 1 minutes. Add fried fish cubes and saute for 2 minutes. Dissolve corn flour in 1/2 cup of water and add to the pan,mix well and cook for 2-3 minutes. Remove pan from heat.
Chilly Fish is ready. Serve with fried rice/jeera rice Or roti/paratha.