Hi friends,
Today we are making a healthy,tasty and easy to make dish – Karela shukto. It is a traditional Bengali dish made with karela and different type of vegetables. You can make it with any vegetables you have in hand.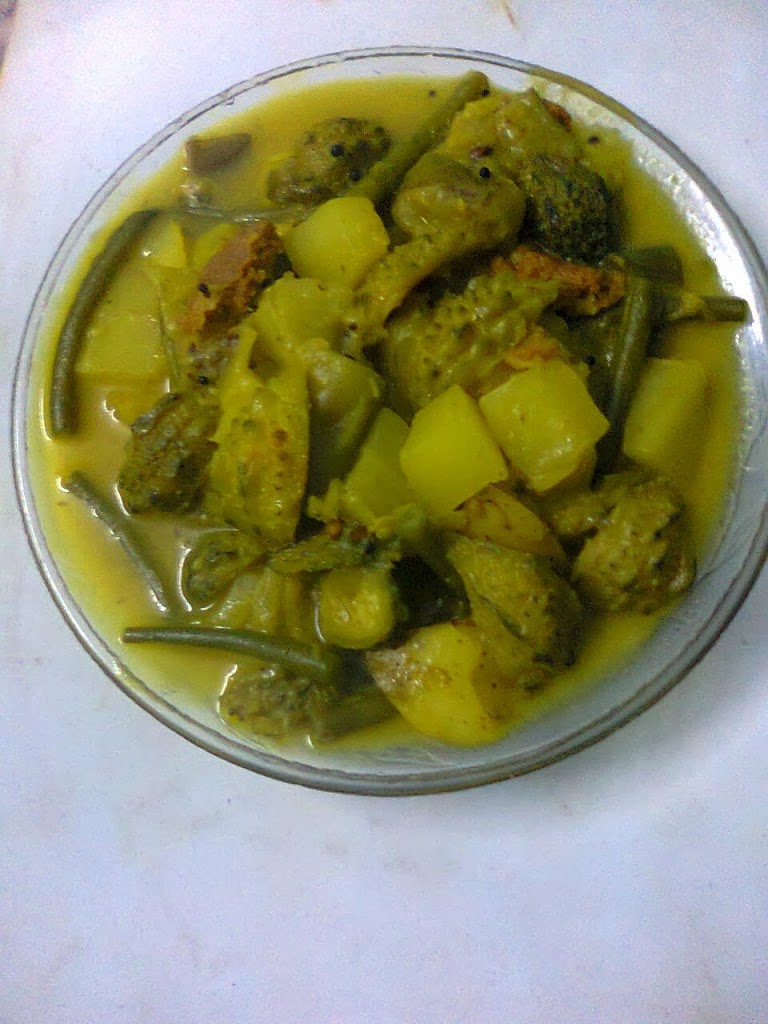 Cooking time – 40 minutes. Serve – 4
Ingredients –
1.Bitter gourd – 2
2.Eggplant (brinjal) – 1
3.Potato (small) – 1
4.French bean – 5-6.
5.Raw papaya (small) – 1
6.Mustard seeds – 1/2 tsp.
7.Fenugreek seeds – 1/2 tsp.
8.Ginger paste – 1 tsp.
9.Turmeric powder – 1/4 tsp.
10. Bay leaves – 2 and Salt to taste
11.Sugar – 1/2 tsp.
12.Oil – 2 tbsp.
13.Ghee – 1 tbsp.
14.Wheat flour – 1 tbsp.
15.Milk – 1/2 cup.
16.Bori (sundried urad dal dumplings) – 6 (optional)
Method –
1.Cut all the vegetables into small pieces, wash and keep aside.Heat oil in a frying pan,fry the bori until golden brown on both sides. Remove and keep aside.
2.Heat 2 tbsp. of oil in the frying pan, add mustard and fenugreek seeds. When crackling add bay leaves and vegetables. Stir fry for 2-3 minutes. Add turmeric powder, salt and ginger paste, saute for 5-6 minutes. Add 2 cups of water and sugar, let it bring to boil. Cover the pan and cook till vegetables become tender. In a small bowl dissolve wheat flour with milk and add to the pan. Mix well and cook for 4-5 minutes with stirring constantly.
3.Add the bori (crushed), mix well and remove pan from heat. Mix ghee and cover the pan and give 10 minutes standing time.
Healthy Karela Shukto is ready. Serve it as a first item for lunch.