Hi friends,
Today we are making Spinach Curry. It is a simple spinach preparation in Bengali style.It is a side dish of spinach with vegetables. You can use any vegetable you have in hand. The dish is very tasty,healthy and quick and easy to make.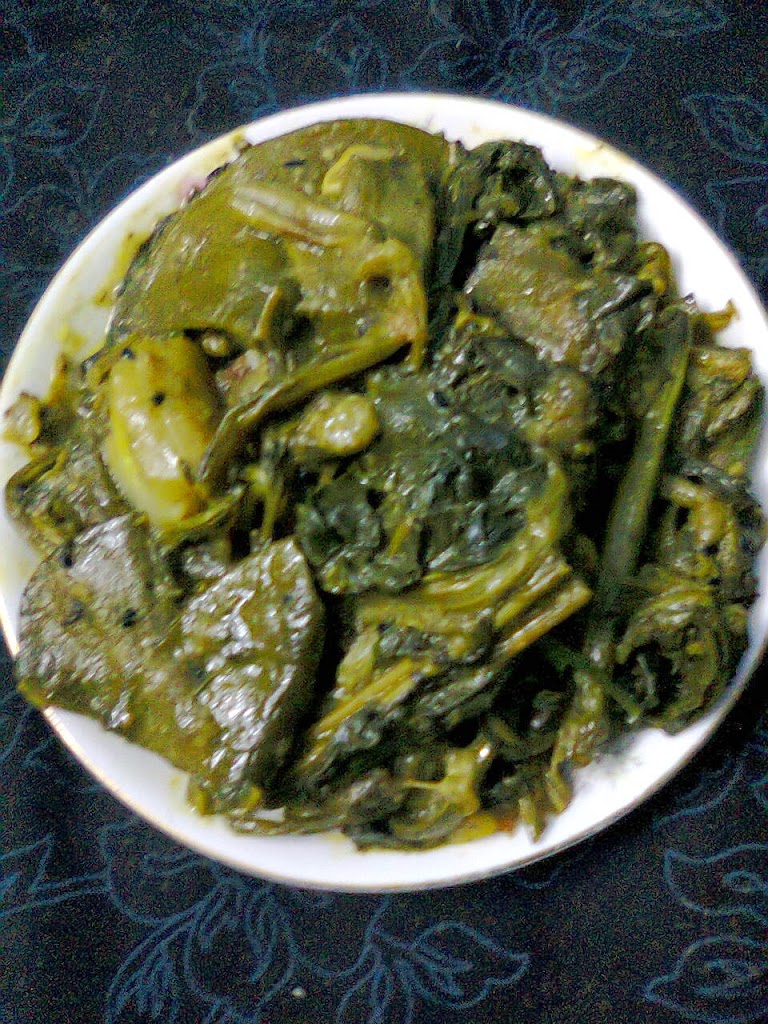 Cooking time – 30 minutes  Serve – 4
Ingredients –
1.Spinach (with stem & bud)) – 300 grams (coarsely chopped)
2.Sheem (Hyacinth bean) – 200 grams (cut into halves)
3.Potato – 1 (cut into small cubes)
4.Brinjal (eggplant) – 1 (cut into medium pieces)
5.slit green chilly – 4
6.Chopped coriander leaves – 2 tbsp.
7.Turmeric powder – 1/4 tsp.
8.Sugar – 1/2 tsp.
9.Salt to taste.
10.Nigella seeds (kalonji) – 1/2 tsp.
11.Oil – 2 tbsp.
12.Wheat flour – 1 tbsp.
13.Milk – 4 tbsp.
14.Bori (lentil dumplings) – 5-6 (Optional)
Method –
1.Heat 2 tbsp. of oil and fry the Borii until deep brown on both sides, remove from oil and crush ,keep aside.
2.Add 2 tbsp.of oil in the same pan. Add kalonji, stir fry for few seconds then add spinach and all the vegetables. Mix well. Add turmeric,salt and stir. Cover the pan..Cook on slow flame for 7-8 minutes with stirring occasionally. Add 1 cup water, sugar and green chilly. Cook on medium flame until the vegetables are cooked. Add little water if needed.
3.In a small bowl dissolve wheat flour with milk and add to the pan, mix well and cook until there is no liquid left. (With stirring constantly)
4.Remove pan from heat,add coriander leaves and bori (crushed) mix well. Cover the pan, give 10 minutes standing time. Spinach Curry is ready, serve as a side dish with rice/roti.