Hi friends,
My today;s recipe is Potato-Peas Curry – an Indian curry that goes well with rice/roti or paratha. The curry is very tasty and easy to prepare.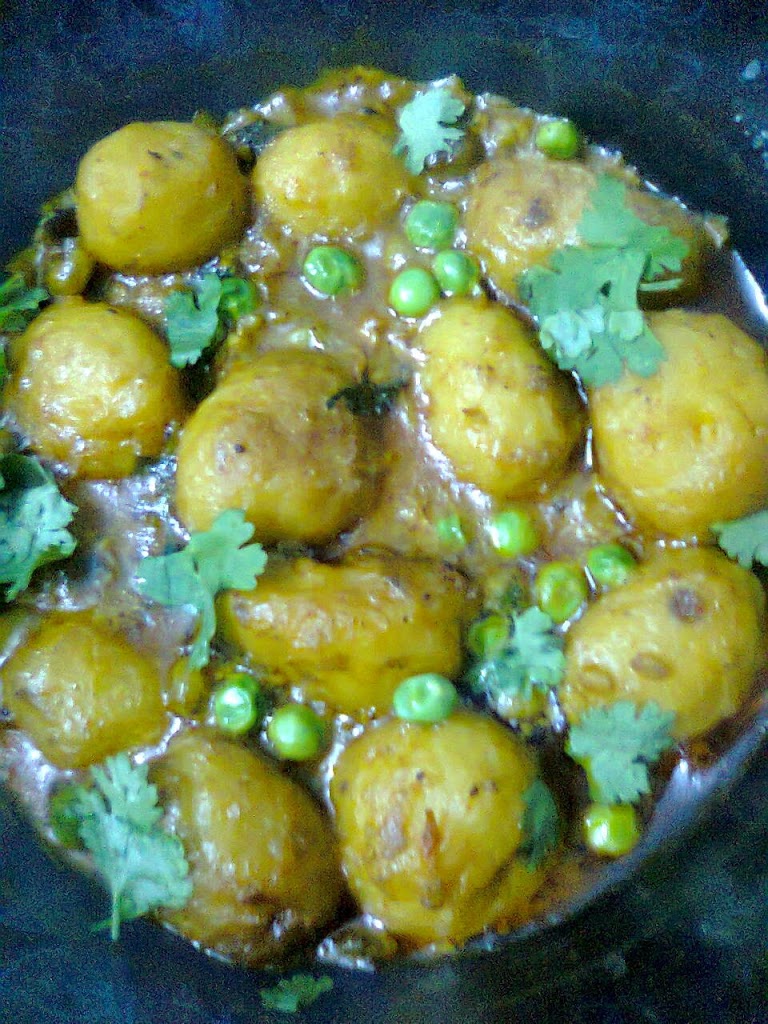 Cooking time – 40 minutes. Serve – 4
Ingredients –
1.Small potato – 750 grams.
2.Peas (shelled or frozen) – 1 cup.
3.Cumin seeds – 1/2 tsp.
4.Onion – 200 grams.
5.Ginger – 1 inch.
6.Garlic – 8 flakes.
7.Tomato – 100 grams.
8.Turmeric powder – 1/2 tsp.
9.Chilly powder – 1/2 tsp.
10.Cumin powder – 1/2 tsp.
11.Garam masala powder – 1/2 tsp.
12.Bay leaves – 2
13.Sugar – 1/2 tsp.
14.Salt to taste.
15.oil – 100 grams.
16.Ghee – 1 tbsp.
17.Chopped coriander leaves – 2 tbsp.
18.Lime juice – 2 tbsp.
And 4 slit green chillly for garnishing.
Method –
1.In a pan put 2 cups of water,potato and 1 tbsp.of salt. Boil for 8-10 minutes. Remove pan from heat, drain and peel the potatoes. Prick each potato all over with a fork.
2.Grind onion, ginger,garlic and tomato into a paste. In a bowl put the paste and add turmeric,cumin,chilly and 1/2 cups of water. Keep the masala mix aside.
3.Heat oil and fry the potatoes till brown, remove from oil and keep aside. In the remaining oil add ghee, then add cumin seeds and bay leaves. When the cumin becomes brown add the masala mix and sugar, Saute until the raw smell of the masalas goes off. Add potato, peas and 1/2 cup of water.Saute for 5-6 minutes. Add 1-11/2 cups of water and salt, let it bring to boil. Cook until the vegetables are cooked. Add water if necessary. Then cook until the gravy is thickened.
4.Add garam masala and coriander leaves,cover and remove pan from heat. Give 10 minutes standing time. Add lime juice and garnish with green chilly. Serve as a side dish with rice/roti.