Hi friends,
Today we are making a very simple side dish – Aloo –Peyajkoli Bhaja. It is a tasty side dish in Bengali cuisine. It is very quick and easy to prepare.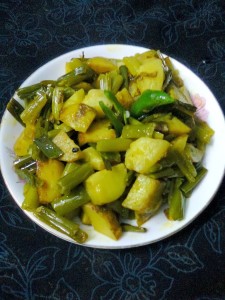 Cooking time – 30 minutes. Serve – 4
Ingredients –
1.Potato – 250 grams.(peeled and cut into small cubes)
2.Peyajkoli – 400 grams.
3.Nigella seeds (kalonji) – 1/2 tsp.
4.Turmeric powder – 1/4 tsp.
5.Oil – 4 tsp.
6.Salt to taste.
7.Red chilly powder- 1/4 tsp.
Method –
1.Heat oil in a frying pan, when hot reduce the heat.Add kalonji,fry for few seconds. Add potato, salt and turmeric powder and stir fry on medium heat until they are 3/4th done.
2.Add peyajkoli and red chilly and mix well, reduce the heat and cover the pan. Peyajkoli release water which will help the cooking. Allow to cook for 7-8 minutes with stirring occasionally.
Remove pan from heat, give 5-7 minutes standing time. Serve Peyajkoli Bhaja with rice/roti/paratha.