Hi friends,
Today we are making a traditional Bengali sweet Gokul Pitha.It is a sweet for special occasion. Traditionally this sweet is made by khoya and sugar but sometimes coconut is mixed with sugar. Now I am making the sweet by khoya and sugar. It is easy to make and incredibly delicious.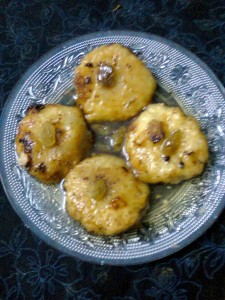 Cooking time – 45 minutes. Serve – 4
Ingredients –
1.Khoya (grated/mashed) – 2 cups.
2.Flour – 1 cup.
3.Semolina (suji) – 2 tbsp.
4.Curd – 2 tbsp.
5.Sugar – 2 tbsp.(for the dough)
6.Sugar / Date Jaggery (grated) – 2 cups.
7.Cardamom powder – 1 tsp.
8.Water – 2 cups.
9.Ghee / Oil for deep frying. Raisins/khoya for garnishing.
Method –
1.In a non-stick frying pan combine khoya and 2 tbsp of sugar. On slow flame saute for 4-5 minutes or till you achieve tight consistency. Remove from the heat and put the khoya mix in a large bowl. Let it cool down. Clean out the pan.
2.Boil 2 cups of water and 2 cups of sugar/jaggery in a pan. Simmer until the sugar is dissolve and the sugar is of medium thick consistency. Remove pan from heat, mix cardamom and keep aside.
3.Take a small portion (lemon size) of khoya mix, roll into ball and flatten. Follow the process with rest of the khoya mix and put in a flat dish.
4.Take flour in a deep bowl. Add semolina, curd (beaten). Mix well. Then add water little by little to make a thick batter.
5.Heat oil / ghee in a frying pan. Dip a khoya ball in the flour batter,coat well on both sides and drop into the hot oil. Fry until brown on both sides (on medium heat). Fry 3-4 balls at a time. Drop the fried balls into the sugar syrup. Keep them in sugar for 25-30 minutes.
Gokul Pitha is ready to serve. Garnish with raisins/grated khoya and serve as a dessert.