Hi friends,
My today's recipe is Fenugreek Leaves Pakora – a healthy dish made with fresh methi leaves. It is very tasty,simple to prepare and requires a few ingredients.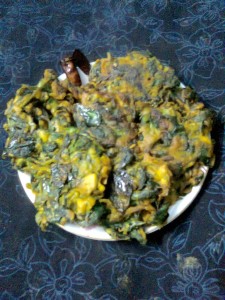 Cooking time – 20 minutes. Serve – 4
Ingredients –
1.Fresh fenugreek leaves – 2 cups.
2.Besan (gram flour) – 1/2 cup.
3.Rice flour/Corn flour – 2 tbsp.
4.Turmeric powder – 1/4 tsp.
5.Salt to taste.
6.Oil for deep frying.
Method –
1.Wash the leaves and put in a large bowl. Add besan, corn flour / rice flour,turmeric and salt. Add water little by little and make a tight mixture.
2.Heat oil in a frying pan,When hot reduce the heat. Take a small portion of the mixture,flatten and drop into the hot oil. Fry till it turns golden brown on both sides. Fry 4-5 pakoras at a time. The temp. of the oil should low.
3.Remove the pakoras with a slotted spoon, keep in paper towels. Now Fenugreek leaves pakora is ready to serve. Serve hot as a first item for lunch.