Hi friends,
Today we are making a simple snack- Cabbage Pakora. It is a home made snack, very tasty and quick and easy to make.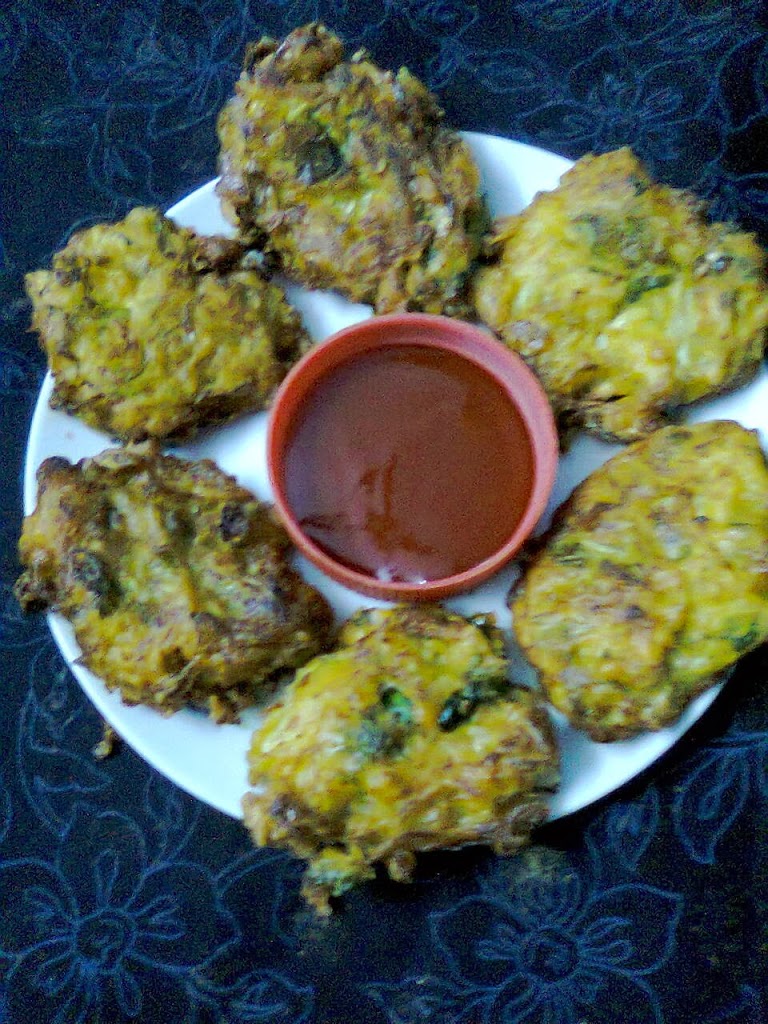 Cooking time – 30 minutes.  Serve – 4
Ingredients –
1.Shredded Cabbage – 2 cups.
2.Ginger paste – 1/2 tsp.
3.Garlic paste – 1/2 tsp.
4.Green chilly – 2 (chopped)
5.Garam masala powder – 1/2 tsp.
6.Turmeric powder – 1/4 tsp.
7.Chopped coriander leaves – 2 tbsp.
8.Rice flour / Corn flour – 1/4 cup.
9.Flour (maida) – 1/2 cup.
10.Roasted peanuts (crushed) – 2 tbsp.
11.Lime juice – 1 tbsp.
12.Salt to taste and oil for deep frying.
Method –
1.Add the cabbage to a pot of boiling water and boil for 5 minutes. Drain and squeeze out excess water and cool it.
2.In a bowl add all the ingredients except oil. Add water little by little and make a thick mixture.
3.Heat oil in a frying pan. When hot reduce the heat. Take a small portion of the mixture, flatten and drop into the oil. Fry till it turns brown on both sides. Fry 3-4 pakoras at a time.
4.Remove the fried pakoras with a slotted spoon and drain excess oil in paper towels.
Cabbage Fritters is ready to serve. Serve hot with sauce or ketchup.