Hi friends,
My today's recipe is Aloo Potoler Dalna – a simple vegetarian parwal preparation. It is a popular side dish recipe, very tasty and easy to prepare.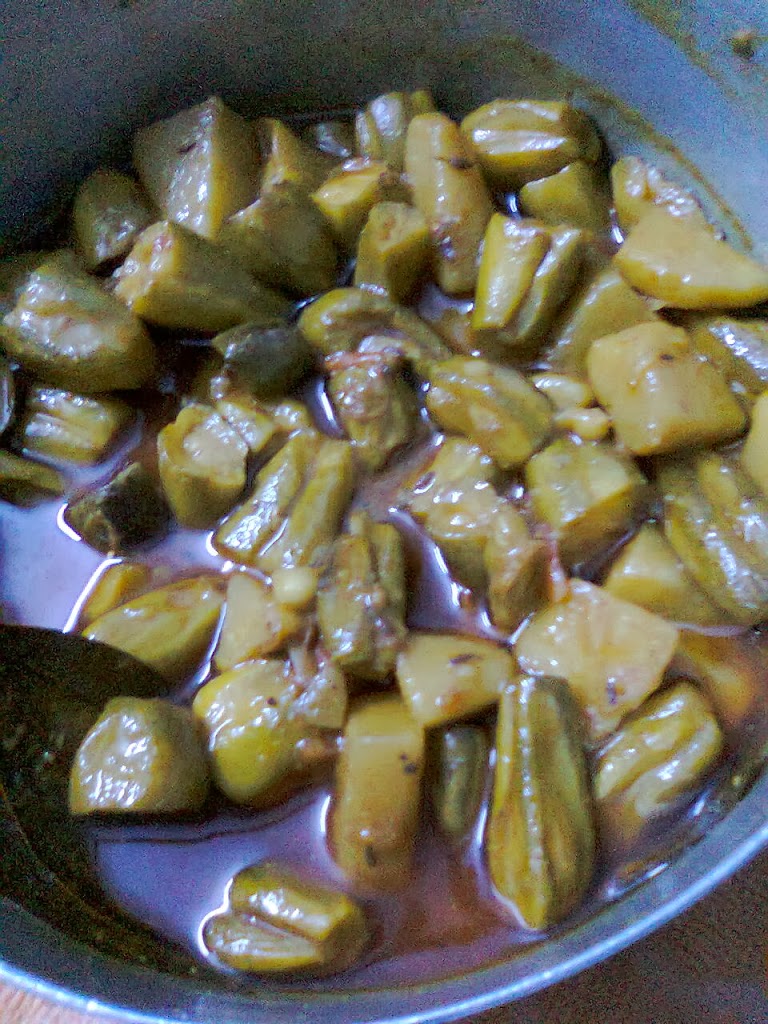 Cooking time – 30 minutes. Serve – 4.
Ingredients –
1.Parwal/Potol – 500 grams (scraped and cut into halves.)
2.Potato (big) – 1 (peeled and cut into 21/2 cm.pieces)
3.Tomato – 1 (finely chopped)
4.Cumin seeds – 1/2 tsp.
5.Ginger paste – 1/2 tsp.
6.Turmeric powder – 1/2 tsp.
7.Cumin powder – 1/2 tsp.
8.Red chilly powder – 1/2 tsp.
9.Coriander powder – 1/2 tsp.
10.Sugar – 1/2 tsp.
11.Salt to taste.
12.Oil – 100 grams.
13.Bay leaves- 2
14.Ghee – 1 tbsp.
15.Garam masala powder – 1/2 tsp.
16.Grated Khoya – 1 tbsp.
17.Raisins – 2 tbsp.(for garnishing)
Method –
1.Boil potato with 1 tsp. of salt for 4-5 minutes,drain and keep aside.
2.Heat oil and fry parwal with 1/2 tsp. of salt and a pinch of turmeric till light brown, remove and keep aside.Add cumin seeds to the remaining oil. When it becomes brown add bay leaves,stir and then add potato. Fry for 4-5 minutes. Add tomato, saute for 2-3 minutes. Add ginger,turmeric,cumin,chilly coriander,sugar and 1/4 cup of water, Saute on slow flame until the raw smells of the masalas goes off. Add parwal and 1/2 cups of water, saute for 4-5 minutes.
3.Add 11/2 – 2 cups of water and salt,let it bring to boil. Add grated khoya,mix well and simmer for few minutes. Cook till the gravy thickens, add ghee and garam masala powder.
4.Remove pan from heat, cover and give 10 minutes standing time. Garnish with raisins and serve with rice/roti/paratha.