Hi friends,
My today's recipe is Egg Cutlet – a popular fried snack recipe made with egg. It is very tasty, simple to prepare and requires a few ingredients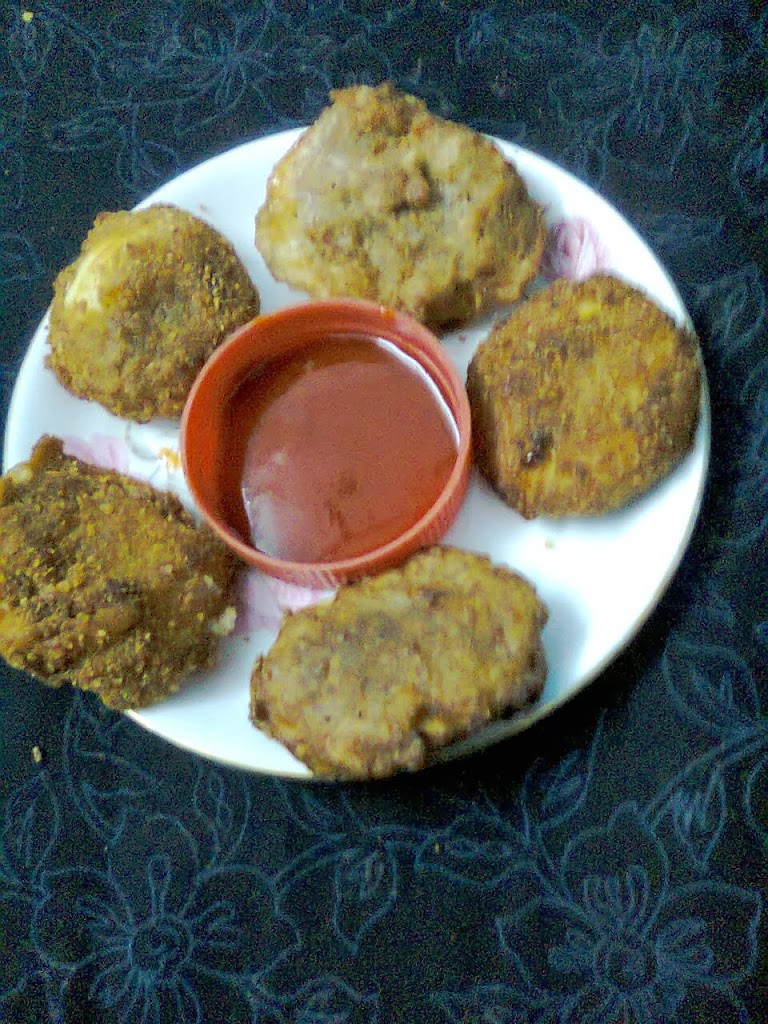 .
Cooking time – 30 minutes. Serve – 4
Ingredients –
1.Boiled egg – 4 (sliced)
2.Beaten egg – 2.
3.Garlic paste – 1/2 tsp.
4.Ginger paste – 1/2 tsp.
5.Turmeric powder – 1/4 tsp.
6.Chilly powder – 1/4 tsp.
7.Garam masala powder – 1/4 tsp.
8.Sugar – 1/4 tsp.
9.Salt to taste.
10.Pepper powder – 1 tbsp.
11.Bread crumbs – 200 grams.
12.Oil for deep frying.
Method –
1.Slice the boiled egg as thin as possible. Keep them in a flat dish and sprinkle pepper powder on both sides.
2.In a large bowl break 2 eggs. Add ginger-garlic paste,chilly-turmeric-garam masala powder,salt and sugar and beat the mixture well. Spread bread crumbs on a plate.
3.Take one egg slice, dip it into the egg mix and then drop it into the bread crumbs,press both sides of the egg slice in the bread crumbs. Keep it in a dish. Repeat the same process.
4.Heat oil in frying pan, when hot reduce the heat.On slow flame fry egg slices until golden brown on both sides.Fry 3-4 slices at a time. Egg cutlet is ready. Remove the cutlets with a slotted spoon and keep in paper towels to drain excess oil.
Serve the egg cutlets with salad and ketchup.You can have it as a starter or as a tea-time snack.