Hi friends,
My today's recipe is Patishapta Pitha. It is a mouthwatering traditional sweet of Bengal made of flour stuffed with coconut-jaggery mix It is very easy to make, requires a few ingredients
.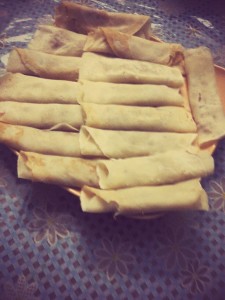 Cooking time – 50 minutes. Serve – 4
Ingredients –
1.Flour – 1 cup.
2.Semolina – 3/4 cup.
3.Sugar – 3/4 cup.
4.Shredded coconut – 2 cups.
5.Shredded date jaggery -3/4 cup.                                                                                            You can use liquid date jaggery also.
6.Milk/Water for making batter. And grated khoya 1/2 cup (for garnishing)
Method –
1.Put coconut and jaggery in a frying pan, mix well. On slow flame cook the mix for 10-12 minutes with stirring continuously.Remove from heat, keep aside.
2.In a large bowl mix flour,semolina and sugar.Add milk/water, mix well to make a smooth batter. (like pan cake batter).Rest the batter for 15 minutes.
3.Heat a non-stick frying pan, when hot reduce the heat. Brush a little oil on the surface of the pan.Pour 4 tbsp.of batter on the hot pan and spread it in a circular shape like a pan cake. Make the pan cake as thin as possible.
4.When the pan cake dries up put 1 tbsp. coconut mix lengthwise and roll the pan cake. Press gently and wait for few seconds. Place it on a plate.
5.Again brush a little oil and repeat the process with rest of the portions.
Patishapta Pitha is ready to serve. Garnish with grated khoya and serve cold as a dessert.
.