Hi friends,
My today's recipe is Shorshe Begun – a simple Bengali side dish made with eggplant, coconut, mustard seeds and poppy seeds. It is very tasty,quick and easy to make and requires a few ingredients.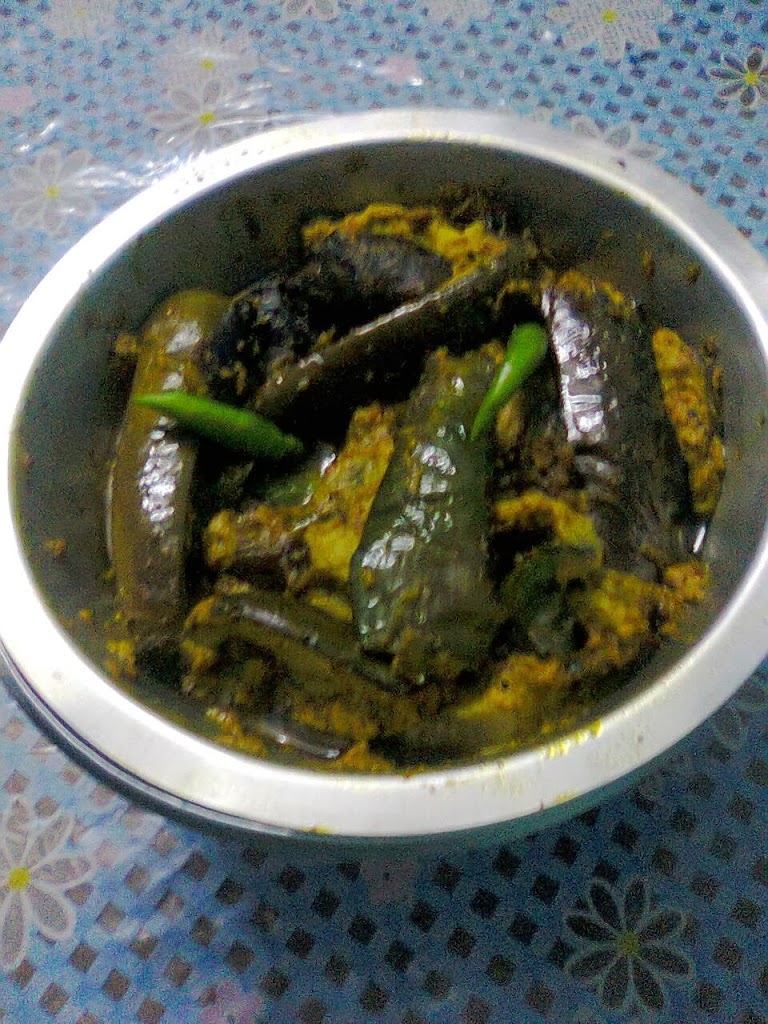 Cooking time – 30 minutes. Serve – 4
Ingredients –
1.Brinjal/Eggplant – 1(big)
2.Garlic paste – 1/2 tsp.
3.Mustard seeds – 4 tbsp.
4.Poppy seeds – 2 tbsp.
5.Shredded coconut – 2 tbsp.
6.Green chilly – 2
7.Oil – 100 grams.
8.Sugar – 1/4 tsp.
9.Salt to taste.
10.Kalonji – 1/2 tsp.
11.Tomato – 1 (chopped)
12.Turmeric powder – 1/2 tsp.
13.Chopped coriander – 2 tbsp.(for garnishing)
14.Green chilly (slit) – 4 (for garnishing)
Method –
1.Grind mustard seeds, poppy seeds,2 green chilly,1/2 tsp.of salt to a paste.(with 1/3 cup of water)keep the masala mix aside.
2.Cut brinjal into large pieces and immerse in water for 10 minutes. Drain and marinate with 1tsp. of salt and a pinch of turmeric powder.
3.Heat oil in a frying pan, reduce the heat and fry brinjal pieces till light brown.Remove from oil with a slotted spoon and keep aside.
4.Add kalonji in the remaining oil, fry for few seconds. Add tomato and garlic paste,saute for 4-5 minutes on medium flame. Add masala mix, coconut,turmeric powder,sugar and little salt. Saute till oil separates.
5.Add 2 cups of water,let it bring to boil. Add fried brinjal pieces and cook for 6-8 minutes with stirring occasionally.
6.When oil starts floating on the top of the gravy remove pan from heat. Cover and give 5-6 minutes standing time.
Brinjal Curry is ready to serve. Garnish with coriander leaves and green chilly. Serve with rice/roti.