Hi friends,
My today's recipe is Chitrakut – a famous Bengali sweet, served as a dessert.It is very tasty and very easy to make at home.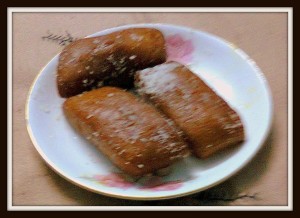 Cooking time – 40 minutes. Serve – 4
Ingredients –
1.Shredded coconut – 1/2 cup.
2.Semolina (suji) – 1/2 cup.
3.Sugar – 1/2 cup.
4.Khoya (milk solid) – 1/2 cup.
5.Cardamom powder – 1/2 tsp.
6.Oil / ghee for deep frying.
Method –
1.In a bowl mix coconut,semolina, sugar and khoya. Grind the mixture to a smooth paste. Grease a tray with ghee, keep it aside.
2.Put the coconut paste in a thick bottomed pan.Cook it at low heat with stirring continuously. When the mix comes together and leaves the sides of the pan, remove the pan from heat.Put the mixture into the greased tray and level it with the back of a spoon. Pat it to 2 c.m thickness.
3.Cut it in square shape while it is still warm.
4.Allow to cool in room temperature.
5.Heat ghee / oil in a frying pan. On slow flame fry the coconut squares until deep brown on both sides. Remove the fried sweets with a slotted spoon.
Chitrakut is ready to serve.Garnish with grated khoya on top.