Hi friends,
My today's recipe is beguni- a famous Bengal snack recipe made of brinjal. It is a popular street food in Bengal and very easy to make at home.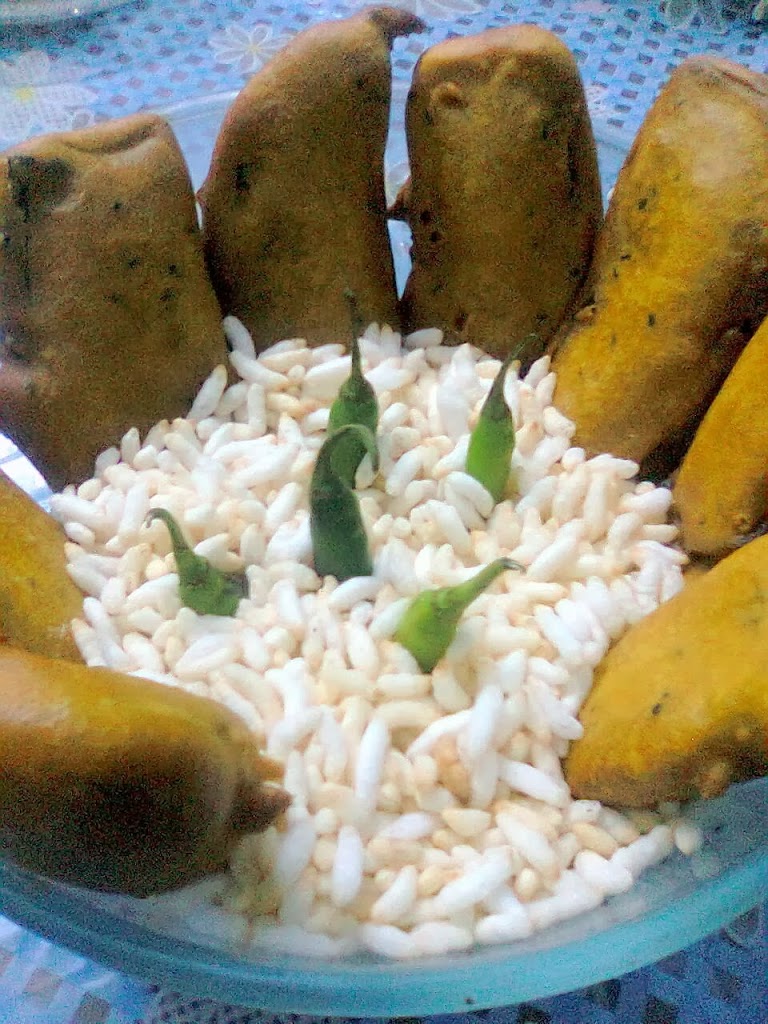 Cooking time – 30 minutes. Serve – 4
Ingredients –
1.Eggplant (brinjal) – 1 (big)
2.Bengal gram flour(besan) – 1 cup.
3.Kalonji (nigella seeds)- 1/2 tbsp.
4.Red chilly powder – 1/2 tsp.
5.Turmeric powder –1/4 tsp.
6 Sugar – 1/4 tsp.
7.Salt to taste.
8.Flour – 1/4 cup.
9.Oil – 2 tbsp.(for the batter)
10.Oil for deep frying.
11.Rock salt – 1/2 tsp.
12.A pinch of baking Soda.
Method –
1.Cut the brinjal vertically into halves.Then slice each portion longitudinally and immerse in water for 15 minutes. Keep the slices in a colander.
2.In a flat dish spread flour and a pinch of salt.Coat both sides of brinjal slices with flour mixture and then shake off excess flour,keep them aside.
3.Take gram flour in a bowl. Add kalonji,red chilly,turmeric,sugar, salt and 2 tbsp. of oil. Add cold water to make a thick batter (pouring consistency). Beat it well.
4.Add a pinch of baking soda, mix well and beat the batter until fluffy.
5.Heat oil in a frying pan,when hot reduce the heat.Dip the brinjal slices into the batter and deep fry them on low flame until deep brown on both sides.Fry 3-4 slices at a time.
6.Remove the fried slices with a slotted spoon and keep in tissue paper to drain the excess oil.
Brinjal fritters/beguni is ready to serve.Sprinkle rock salt and serve as a snack/starter or with dal/khichuri.