Hi friends,
My today's recipe is savoury pancake – a colourful and healthy pancake recipe. It is very tasty ,mixed with various vegetables. You can use any vegetables you have in hand.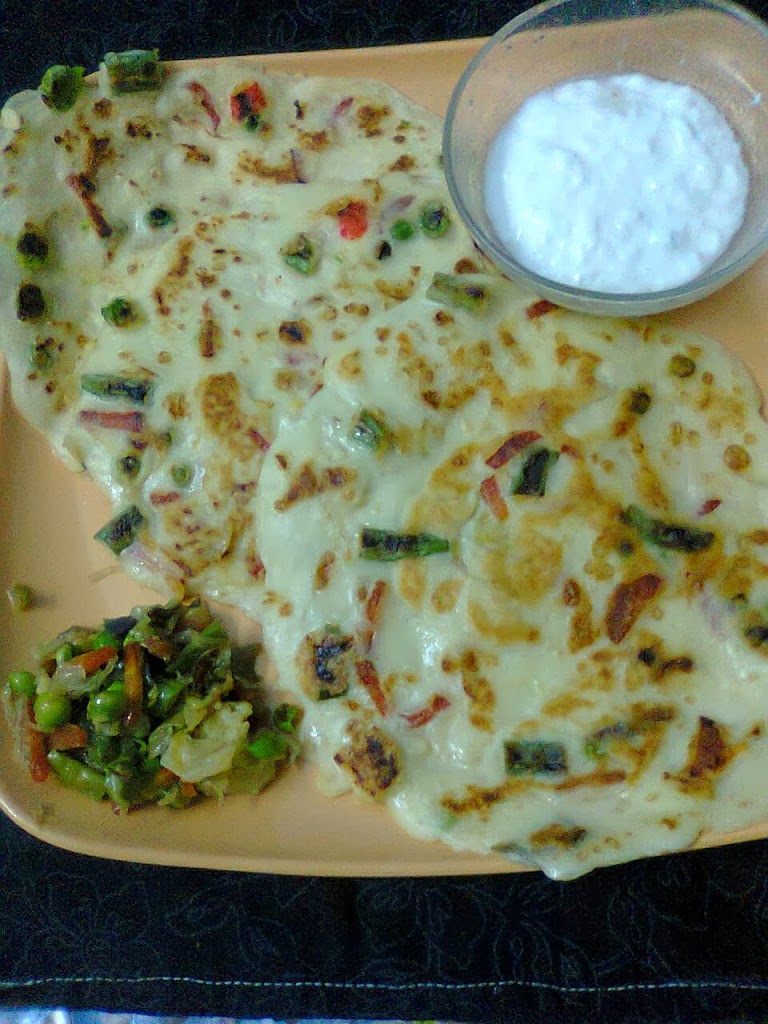 Cooking time – 30 mins. Serve – 4
Ingredients –
1.Flour – 1 cup.
2.Egg – 1
3.Milk / water – 1/2 cup.
4.Sugar – 1/4 tspoon.
5.Oil / butter – 4 tabspoon.
6.Salt to taste.
7.Peppercorn pwd – 1/2 tspoon.
8.Ginger-garlic paste – 1/2 tspoon. (optional)
9.Onion – 1 (finely chopped).
10.Carrot – 1(grated).
11.Capsicum – 1 (sliced julienne).
12.Potato – 1 (very finely grated).
13.Cauliflower and cabbage – (boiled and grated).
14.Cheese (for garnishing) – 1/2 cup (grated).
Method –
1.Place the vegetables in a bowl and mix well.
2.Whisk egg and milk/water in a separate bowl. Add flour,sugar,salt,pepper pwd,ginger-garlic paste and 1 tabspoon of oil/melted butter and mix well.
3.Add the vegetables mix to the egg mixture and stir until combined. If the batter seems very thick add milk/water.
4.Heat a non-stick pan on medium heat.Add a little oil/butter to the pan, swirl around. Pour 1/4 cup of batter on it. Cook one side till it brown and then turn the side,cook on the other side.
Make the pancake of all the batter.
Pancakes are ready to serve.At serving time you can spread grated cheese and microwave for 1/2 –1 mins.