Hi friends,
My today's recipe is Spicy Egg Curry. It is very rich in flavour ,spicy and delicious and is simple to prepare.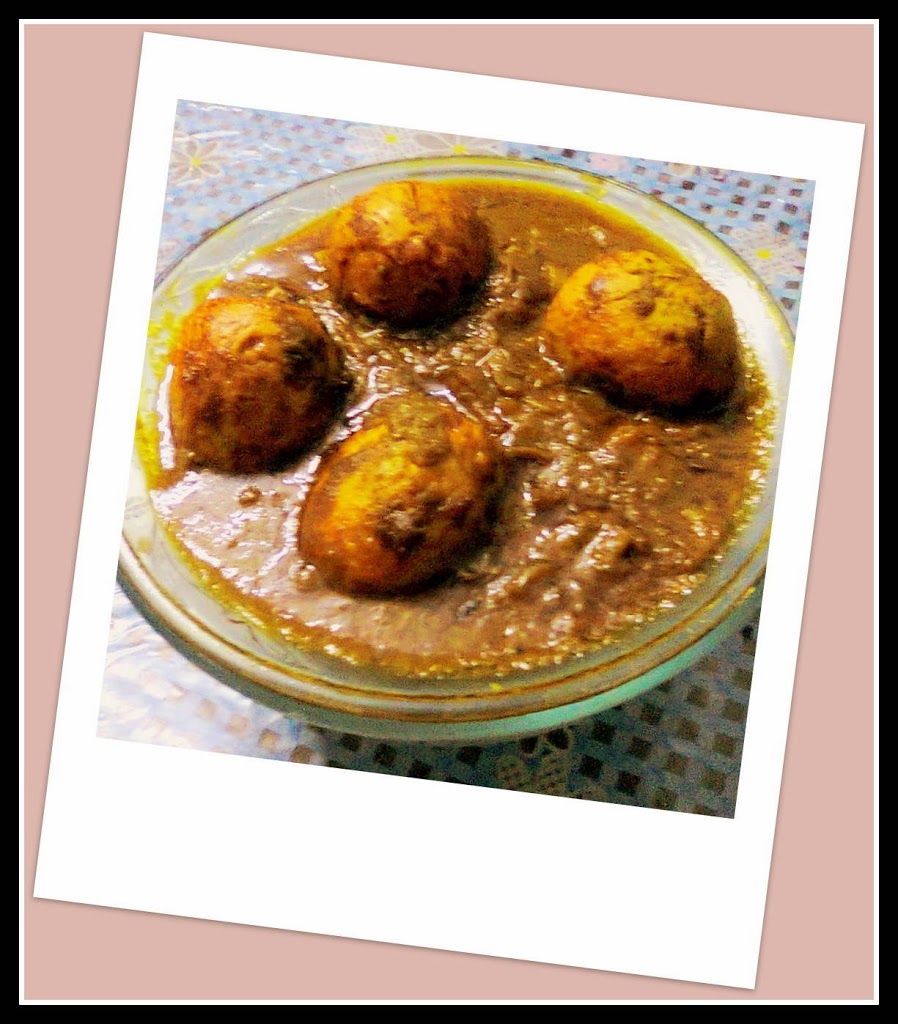 Cooking time – 40 mins.  Serve – 4
Ingredients –
1.Egg (large)    – 4
2.Tomato        – 1 (grated)
3.Onion          – 1 (grated)
4.Cashew nuts- 8
5.Ginger paste – 1/2 tspoon.
6.Garlic paste  – 1/2 tspoon.
7.Turmeric pwd- 1/2 tspoon.
8.Red chilli pwd- 3/4 tspoon.
9.Cumin pwd    – 1 tspoon.
10.Sugar         – 1/4 tspoon.
11.Bay leaves – 1
12.Curd         – 2 tabspoon (beaten)
13.Salt to taste.
14.Oil   – 1/2 cup.
15.Ghee – 1 tabspoon.
16.Garam masala pwd –1/2 tspoon.
17.Whole garam masala – 1 inch Cinnamon, 2 Cardamoms, 2 Cloves.
Method –    
1.Boil eggs in water for 10 mins.Keep the eggs in cold water and take the shells out.
2.Marinate the eggs with salt and a pinch of turmeric.Prick them with a knife.
3.With a little water grind cashew nuts into a paste.
4.Heat oil in a pan and fry the eggs till light brown.Remove the eggs and keep aside.
5.Add whole garam masala and bay leaf.Stir for a few sec .Add grated onion and fry till golden brown.
6.Add ginger-garlic paste,tomato puree,turmeric pwd,chilli pwd and cumin pwd with 1/4 cup of water.Add sugar and salt, saute until the raw smell of the masalas goes off.Add cashew paste and curd ,satue for 3-4 mins.
7.Add 1 cup of water and let it bring to boil. Add fried eggs,cook for 5-6 mins (stirring occasionally)
8.Remove the pan from heat,add ghee and garam masala pwd. Cover the pan with lid and rest it for 10 mins.
Spicy Egg Curry is ready. Serve it with rotis or boiled rice.