Hi friends,
My today's recipe is Masala Gobi – a rich cauliflower preparation. It is an authentic Indian dish and easy to prepare.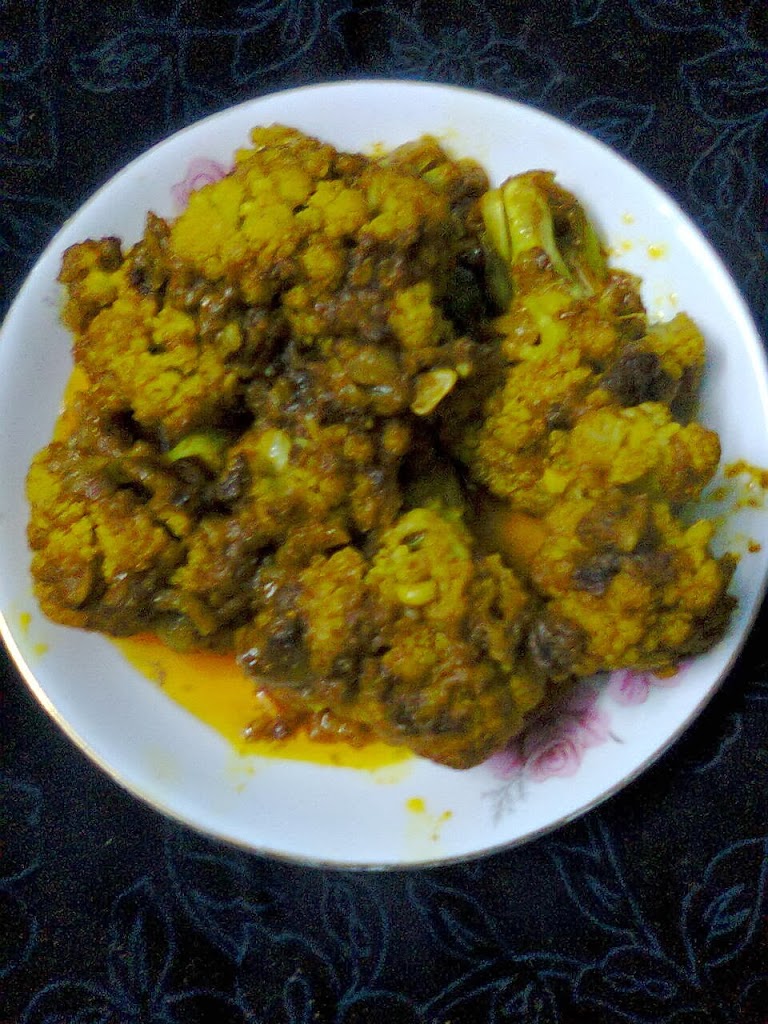 Cooking time –50 mins. Serve – 5
1.Cauliflower – 1 (Cut into florets)
2.Onion – 1(Chopped)
3.Tomato – 1(Chopped)
4.Ginger paste – 1 tspoon.
5.Garlic paste – 1 tspoon.
6.Turmeric pwd – 1 tspoon.
7.Red chilli pwd – 1 tspoon.
8.Cumin pwd – 1 tspoon.
9.Coriander pwd – 1 tspoon.
10.Poppy seeds paste – 1 tspoon.
11.Cashew nuts paste –1 tspoon.
12.Sugar – 1 tspoon.
13.Cumin seeds – 1/2 tspoon.
14.Ghee – 1 tspoon.
15.Garam masala pwd – 1 tspoon.
16.Fenugreek leaves – 1 tspoon (Crushed)
17.Coriander leaves – 1 tabspoon.
18.Oil – 1 cup.
And salt to taste.
Method –
1.In a bowl take warm water and 1 tabspoon of salt, immerse cauliflower for about 30 mins. Drain it and pat dry.
2.Marinate cauliflower florets with 1 tspoon of salt and a pinch of turmeric pwd.
3.Heat oil in a pan, fry the florets till light brown. Transfer them to a bowl.Clean out the pan.
4.Again heat oil in the pan, add cumin seeds. When it splutters add onion and fry till golden brown.Add tomato to it and saute for 3-4 mins.
5.Add ginger-garlic paste, poppy seeds paste,sugar and all the masala pwd. with 1/4 cup of water. Saute until the raw smell of the masalas goes off.
6.Add 1 to 11/2 cup of water and let it bring to boil.
7.Add cauliflower florets, cashew nuts paste, crushed fenugreek leaves, salt and simmer for 8-10 mins.stirring occasionally.
8.Remove the pan from heat, add ghee and garam masala pwd, mix well.Garnish with coriander leaves.
The Gobi Masala is ready for serving. It is best served with roti, paratha and plain rice.