Hi friends,
My today's recipe is Prawn Malaikari – a famous Bengali delicacy. It is very tasty,cooked with coconut milk and superb aromatic.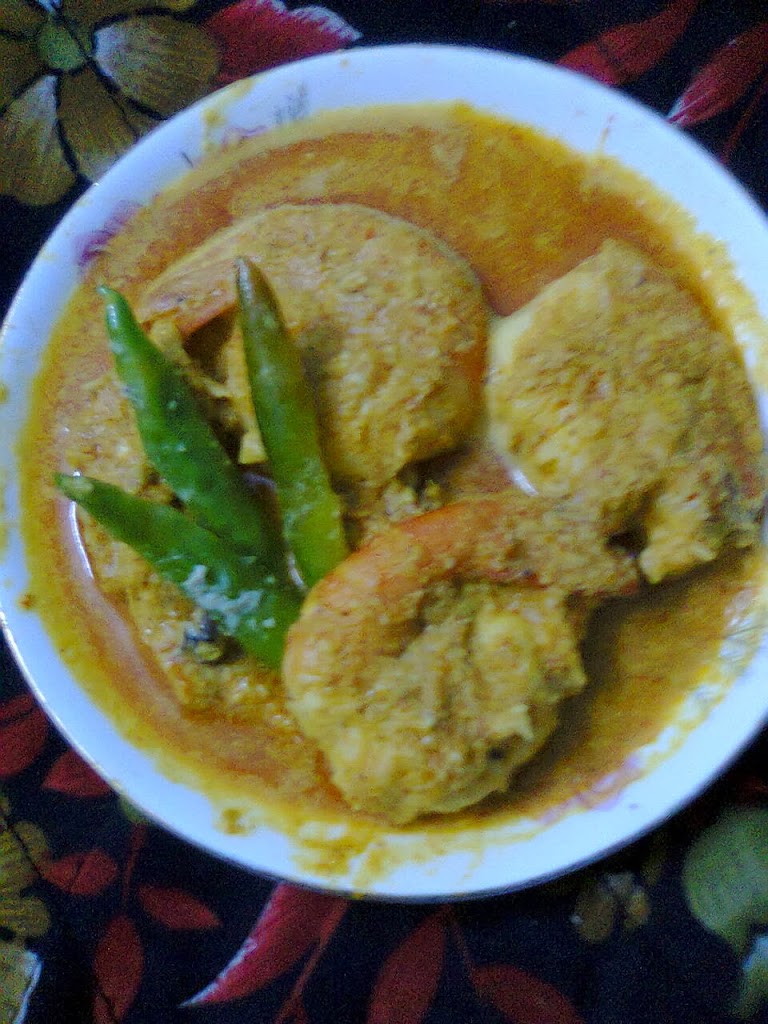 Cooking time – 30 mins. Serve – 4
Ingredients –
1.Prawn  – 500 gms. (shelled and de-veined)
2.Coconut – 2 cups (shredded)
3.Onion paste – 2 tbspoon.
4.Ginger paste – 1/2 tspoon.
5.Garlic paste – 1 tspoon.
6.Turmeric pwd – 1/2 tspoon.
7.Red chilli pwd – 1/2 tspoon.
8.Tomato puree – 1 tabspoon.
9.Garam masala pwd – 1 tspoon.
10.Sugar  – 1 tspoon.
11.Salt to taste
12.Oil  – 4 tabspoon.
13.Ghee – 1 tabspoon.
14.Raisin – 2 tabspoon. And 4 green chillis for garnishing.
Method –
1.To get coconut milk blend shredded coconut in a mixer with 2 cups of water for 5 mins and pour them in strainer. Keep the coconut milk aside.
2.In a pan boil the prawns with a pinch of salt for 3-4 mins. and drain.
3.Heat oil and ghee together in a pan, reduce the flame add onion-ginger-garlic paste, turmeric pwd and chilli pwd with 2 tabspoon of water,saute for 2-3 mins.Add prawns , mix well and saute  for 4-5 mins. If needed add little water.
4.Add salt, sugar and coconut milk.Stir and let it bring to boil. Simmer for 7-8 mins.(stir in between)
5.When the gravy is thick add raisins and garam masala pwd,mix well.
Remove pan from heat,cover and give 10 mins standing time.
Prawn malaikari is ready to serve. Garnish with green chillis and serve with plain boiled rice.