Hello Friends and Family
, :)Hope you are enjoying your weekends!!.. What about having some snacks with tea in this lazy Sunday afternoon..Sounds great..Isn't??
So, my today's recipe is Kaju Pakora (Cashew Fries)..Its a fun recipe..A great evening snacks..and very easy and quick dish to make…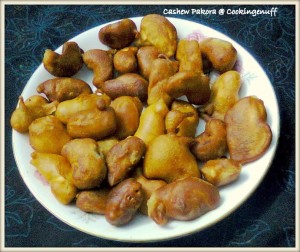 Lets quickly see The Ingredients and then the Procedure..
Cashew Pakora – A Tea time snacks
Preparation Time – 40 mins.
Serving Size  – 4
Ingredients
1. Cashew nuts       –  250 gms
2. Besan [gram flour]-  1 cup
3. Corn flour        –  1tabspoon
4. Red chilli powder –  1/2 teaspoon
5. Turmeric powder   –  1/4 teaspoon
6. Baking soda       –  1/4 teaspoon
7. Plain curd        –  1 tabspoon
8. Oil[for batter]   –  1 tabspoon
9. Oil for deep frying
10. Salt to taste
11.  Peppercorn Powder [optional]
Procedure –
1. Mix besan,corn flour,red chilli powder,turmeric powder,salt and curd in a large bowl.
2. Then add water little by little while mixing it continuously to a smooth batter.Blend the mixture for 2 mins.
3. Mix 1 tabspoon of oil and baking soda and rest the batter for 10 mins.
4. Heat oil in a frying pan.
5. Dip the nuts at a time in the batter so that it is completely coated with the batter.
6. Drop the cashew in hot oil one by one[the temp. of the oil should be medium] and fry them until
golden brown.
7. Soak excess oil in paper towels.
Sprinkle  peppercorn powder and serve hot cashew pakora with sauce or ketchup.
Please comment below how you like the Cashew Pakora Recipe.
Also let me know if you have any special recipe request.
Please don't forget to @Subscribe to my blog.
Have a great Weekend!!:)
Today's Quote-
"I am thankful for all of those who said NO to me. Its because of them I'm doing it myself"– Albert Einstein