Good Morning Friends,
My today's recipe is Jeera Rice.
A very Popular Indian dinner recipe and very easy make.
Lets see the process –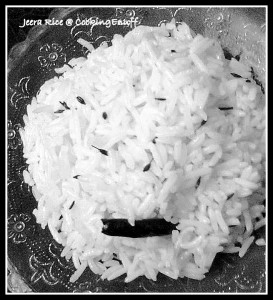 Preparation Time – 10 mins.
Serving Size     –  4
Ingredients –
Boiled Rice  – 2 cups.

Cumin Seeds – 1 tbsp.
Red Chill – 1(Whole).
Garam Masala -(clove-3,cardamom-2,cinnamon-1inch)
Ghee – 2 Tabspoon
Veg.oil – 2 Tabspoon
Salt to taste.
Method –
Heat oil and Ghee together in frying pan.Add red chilli,whole garam masala(crushed) and cumin seeds into the pan.
When cumin seeds start crackling,add Boiled-Rice and salt.Reduce heat and stir slowly.
After 2 mins remove pan from heat and cover the pan with lid.
Let it rest for 5 mins and now Jeera- Rice is ready to serve with rich curry.
Please comment below how you likes it and if you have any questions.
Don't forget to follow me on google+ and also subscribe to my blog.
Thank for reading!